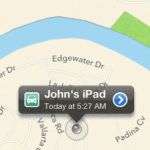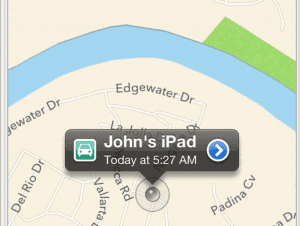 Let's talk a bit about the dumper and dumpee. If you were NOT the one who thought of the divorce first, you are the dumpee. And there's an amazing thing that happens to dumpees. We are divorced and alone long before we get used to the idea of what's happening. In my case, I objected with a vengeance, but quickly learning, in counseling and eventually divorce financial consulting, that it takes two people to want to stay married.
And that's when the world was thrown up on it's end. I was being asked to simply pack a bag and tell the kids I was going away on a business trip.
So let's assume that my ex-y had been contemplating the divorce for six months. Taking steps to secure certain parts of her plan. She wanted to make sure she had her ducks in a row, long before I knew I was being lined up for an exit.
And, yes, it's usually the man who leaves the house. That just makes it easier on the kids. (And if you believe that bullshit line… Well, we don't have to go into that now.) So now, I'm learning for the first time that my wife had already been to see a lawyer about options, and she was asking me to leave the house. Just walk out in the middle of April. Two months before the kids were to be finishing up 3rd and 5th grades. Um… NO WAY.
I was surprised in our marriage counseling by something that she revealed. Something didn't sound right. "Have you been to see an attorney?" I asked.
And that's when the world was thrown up on it's end. I was being asked to simply pack a bag and tell the kids I was going away on a business trip. What? Why?
I knew we were having problems. That's why we'd been in therapy on and off for years. But DIVORCE? I was crushed. Angry. Stunned. And most likely in a state of shock.
In the session, I flatly refused to leave the house. "If you're so unhappy, and so ready for a break if that's what you're calling it, why don't you take a trip?" Both my ex-y and the therapist looked at me with eyes of concern. Perhaps it was pity. I was thrashing against the idea of the divorce, and she was asking me to leave tonight?
When you are the dumpee it's likely the other person is much further down the road to healing from the split. In fact, they may have reached a place of being ready for it all to be over.
As it's often the woman who gets the house if you have kids, it's also very common for the woman to reach the breaking point while the good-natured husband just thinks it's a "rough patch." And until I learned that afternoon, that she'd already been weighing her options and strategy for leaving me (or getting me to leave, to be more accurate) it was only a rough patch.
"I may not like you right now, " I had written in an email a few weeks earlier, "But I love you very much. We will get through this period. It's just a rough spot."
One rough spot too many I suppose.
When you are the dumpee it's likely the other person is much further down the road to healing from the split. In fact, they may have reached a place of being ready for it all to be over. And this is before us poor saps even know we're heading that way.
And the mechanics of divorce can happen very quickly. From the moment she told me, to when I was actually leaving the house for the last time was about two months, but this is only because I fought with her about the idea of splitting before the kid's school year was done.
It was a hellish two months. But today, I can say, I held the line for THEM. I kept their soon-to-be-uprooted lives sane for two more months so they could have the Summer to fall apart with me. Their mom was already working on "what's next." The head start down the divorce path becomes a very strong tactical advantage. I was still willing to bargain and negotiate because I was certain we would work something out. She was already working out how to pay rent on the house after I moved out.
No one is going to take care of you in divorce. Your ex will make selfish decisions and continue to make selfish requests couched in "the best interest of the kids."
She was a century ahead of me in all the negotiations. I was still reeling from the loss and onset of depression from my sister's downstairs bedroom, and she was working on the taxes and the financial split arrangements. (She takes the house. I take the house. We sell the house. I didn't want to lose my house or my family.)
While I was her ex she was still my beloved, but troubled wife. The mother of our two kids. Oh, the kids. They were the ones who were gonna suffer. It's all about them. This divorce stuff is for grown ups. In divorce, you do everything to shield the kids from the fight and fallout. Which includes letting them stay in their primary home with the primary caregiver. (Again, I call bullshit, but I was so confused and sad at this point that I was not negotiating at all, I was recoiling. I was in duck and cover mode both emotionally and financially.
When her lawyer requested a hefty child support payment AND 100% of the health insurance premiums I was compliant. I didn't even retain a lawyer except to look over the final decree. (Maybe that was a mistake.)
But we'd decided to do a collaborative divorce.
Yeah, the nice guy needs a lawyer. Take my advice, no matter how civil you think you're going to be, no matter how cooperative and collaborative she is at the beginning when the shit hits the fan, the one with the lawyer wins.
No one is going to take care of you in divorce. Your ex will make selfish decisions and continue to make selfish requests couched in "the best interest of the kids." Bullshit. If it's about "primary caregiver" or "primary nurturing adult" I was both. She was the mom, yes, but she was emotionally unavailable to the kids – sort of still is. I was the emotional heart of the clan. She was the accounting and hard ass board member.
Go for 50/50 if that's what you want. You might not win, but you won't regret it if you lose. I regret it that I gave up in the name of "doing what's best for the kids."
Perhaps it does not have to go this way. Perhaps there are goodwill collaborative divorces. And I'm sure there are. Ours was supposed to work out that way, but things don't always go as planned.
My first big loss was in being refused 50/50 custody and 50/50 parenting time. This will continue to be an issue that I feel frustrated about the rest of my life. I should've had my kids 50% of the time. That's how we parented. Why was I suddenly a lesser parent (non-custodial) and the only one required to pay the other person? What if I lost my job? Well, we were gonna find out about that one soon enough.
Here's my belief. If you parented cooperatively and intend to divorce cooperatively, great. Get a lawyer. And if you want 50/50 custody and parenting, ask for it. No, better than that, FIGHT FOR IT. It turns out the courts are more likely these days to give 50/50 requests
In my case, I waived the right to an attorney. And when our high-paid counselor said the 50/50 parenting plan I presented was just "not what she would get if you went to court" I lost everything. I lost the house. I lost the money. And most importantly I lost the time with my kids. The time when they were in their tenderest years.
Well, fuck that. Go for 50/50 if that's what you want. You might not win, but you won't regret it if you lose. I regret it that I gave up in the name of "doing what's best for the kids." It wasn't. It isn't. And I should've fought for it.
The Off Parent
@theoffparent
< back to The Hard Stuff posts
related posts:
---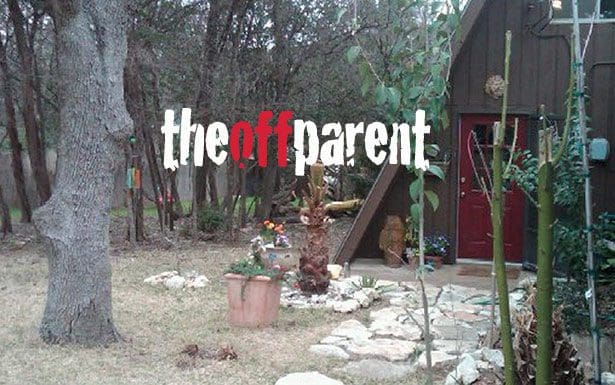 I've written about this before. I'd like to recap and bring some structure and organization to the story of my house struggles and my depression surrounding the crushing effects of the divorce on my personal and financial stability.
In divorce the man often is the parent who is asked to leave the house, and leave the rest of the family as undisturbed as possible. I get it. We are trying to lessen the impact of the divorce on the kids. But… What about the dad? As they continued on in some sort of "daddy's on a business trip" mode, I was immediately homeless and alone. Um, it is quite different.
And one of the first challenges, if money is an issue, is establishing a new home, a place where you can begin being a dad again. How long it takes to reestablish this residence depends a lot on your mental state of mind and your employment situation. In my case both were significantly damaged. I moved into my sister's spare bedroom. And this might have been a saving grace. I was not ready to be alone alone. When I was "off" I had my sister and her two kids to keep me company. My story became, "And I didn't need to be alone. I was so lucky."
But I tried to keep my joy and wits about me as well.
My divorce was finalized in August of 2010 and my next full-time job came along in December of that year. I appeared to land on my feet at a fairly high-profile and well-paying gig. Immediately I started looking for a place to live. I knew with the way credit works that I needed to establish myself as a home owner as quickly as possible. And in February I found a smallish house in a neighborhood a lot less expensive that our family home, but within my kid's school district. And in March we launched the "gnome house" chapter of our lives. My kids were in 4th and 6th grade at this time, and my house was actually closer to my son's middle school than their mom's home. It was a short-lived victory.
In July of that first year, my employer changed their entire business model and eliminated my position after six months. Now, I could give into my mom and sister's evaluation that I jumped to early, but I knew that my options for buying were going to be much harder without the big job. I was glad I had a home, but I collapsed into a summer of hardship as I struggled to find work again. At the same time, my kids and I had a great summer. We swam in the nearby lake, we played basketball and soccer in the twilight of the summer evenings, when the Texas heat gave way. We had an adventure together. And for all intents and purposes we were happy in our little house. On the days (most of them) when they were not with me I thrashed and struggled with my life and the impending loss of my newly established home.
When school started up again, things began to fall apart for me.
And the strains of money began to show up in discussions with my ex-wife.
We struggled on, I continued to profess my intention of getting caught back up with the child support that was set during the divorce at my "big corporate job" rate. She started feeling the pressure of the cash call as well, and there is no blame here. She was a very responsible money manager. In her mind she was doing what she felt was necessary. I was doing what I thought was necessary as well. I remember an email exchange between us where she said, "You seem to think that your mortgage and expenses are more important that your responsibility to your children. I don't understand that."
Um… My response was this, "I think we knew this was going to be hard. And I think dad deserves a place to live and a food and electricity to provide a place for himself and his kids, when he has them. I will get caught up on the child support, and I assure you I am not spending any discretionary money. I have no discretionary money. I am working to find a job so I can keep my house and resume full payments to you."
At this point I was just irregular. When things got really bad is when I actually missed a full payment. Her emails became more hostile. And our "conversations" devolved into sometime resembling this exchange. ME: "I think we should talk about the kids summer plans." HER: "When will you have the next payment?" ME: "Um… I don't know. I have some prospects, but nothing has come through." HER: Silence. And that's how the communications between us, that had been positive and kid-focused, got off track. And things went down hill fast after she started refusing to discuss anything with me that didn't involve a payment date and plan from me.
And then things were forever changed. She filed her cause with the Attorney General's office. And we were suddenly in a legal battle again and I went from struggling and working and not making enough money to a "deadbeat dad."  But that wasn't enough. I was also now nearing default on my mortgage. I again pleaded with her to give me some options. She began her new response, "I signed an agreement with the AG's office not to negotiate about money with you." END OF DISCUSSION.
As the last year began to close it became clear that she was blocking my attempts to file restructuring bankruptcy to try and keep the Gnome House. I looked to my mom for some financial support, but she really hadn't like the house from the beginning. Fuck. I was out of options and in newly threatening weekly letters from the AG's office. It was time to sell. And without a full-time big corporate job I didn't have the income to even look for a place to "move to." And so at 51 years old I was heading back under the roof of my mom. The shame was palpable, but what were my options?
So in March of this year, 2014, I sold my home and moved in to my mom's house. OUCH. My mom and I laughed through the situation with a phrase, "Well, it beats living under a bridge." Yes, it does. But it didn't have to go this way.
Some where in the divorce she had lost all compassion for me. When my house was being threatened by foreclosure she pressed the entire issue, her issue, to the AG's office, thus obstructing any potential remedy I might seek. And in the loss, my kids and my mom and I have gotten very close. And it's funny, they have better rooms and better meals than they ever had at my house. In my haste to reestablish a homestead and a place for me to be dad, I had chosen a house that has some fundamental issues. (No dishwasher, a septic system, and only one kid bedroom.)
At this moment I'm in a converted single-car garage in the middle of a rich neighborhood. It's not bad. I'm not thrashing. But it's hard. I have no privacy, no place to even think of establishing a relationship. And what's the first warning sign anyway? Someone with money troubles, or god-forbid, no home.
In the divorce I am certain we were both doing the best we could. In the blindingly sad negotiations I agreed to giving up my request for 50/50 parenting, and I accepted the financial responsibility that would lock me into the big corporate track for the duration of the agreement. (Until my last child reached 18.) But what I didn't know is that in all this "good will" negotiations that my soon-to-be-ex-wife would press the entire thing onto the state's attorneys.
She did it with little more than a reference to "looking after the children's interests." Um, sure, maybe, if I was doing something that demonstrated I was trying to skip out on my child support payments. That's when you go to the AG's office! Not as a normal course of business. And when my home was threatened is the moment, I think, that you get real about the situation, you show some compassion for your co-parent, and you pause.
In divorce, you are still in a financial coupling. When I lost my job we all suffered. But that's not the moment to file against your former partner. I do think she's still mad at me, the same anger that infected our marriage. I'm not sure how that happens, or how someone dissipates it on their own. It takes work. And in a recent kid-focused therapy session her rage surfaced again, and I was again seeing the woman who I gladly release. I don't need to be in any kind of relationship with someone who harbors such vitriol. And so we drop down into a logistics-and-money relationship. Sad. But maybe that's more accurate. That's kind of how the marriage had become as well.
We carry on. We do better. We keep going.
Sincerely,
The Off Parent – still in transition
@theoffparent
image: the gnome house, march 2011, the author, cc
---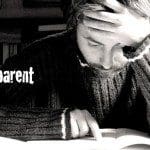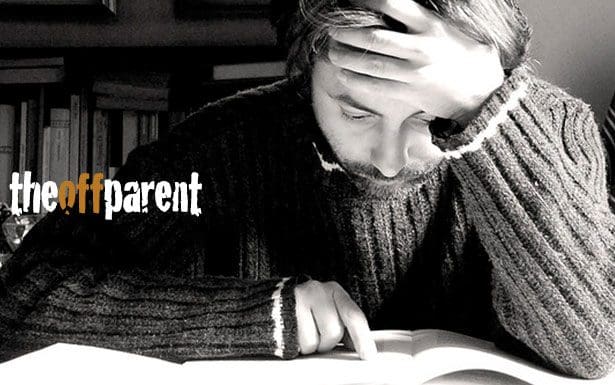 As my wife was proposing divorce, I asked her, "Do you think we can afford two houses in this neighborhood?" She had no response.
There is something amazing about being cut free from all of your worldly possessions. It's a bit disorienting. I remember the first year without a house, when most of my "stuff" was in my old garage, her garage. We had agreed that she would keep the house, and I would get some of the retirement savings she had socked away while we were married. While the financial split was equitable, the appreciation of the house and the penalties of early withdrawal from retirement accounts were not really factored in. Oh well, water under the bridge.
Well, last week was an amazing succession of unfortunate events.
The AG's office took control of my banking account. (AG's Office Round 2)
My storage unit (since I'm homeless again, at the moment) auctioned off all of my "stuff" for a $350 late payment.
Today I am finally untethered completely. I guess if I were in a negative state of mind I would be taking this much harder. But somehow, even the "stuff" feels like a release. But I might be in shock. The loss of all of my books, all of my music recording equipment, all of my furniture, the bulk of my clothing, everything, leaves me a bit like I was when I first left the marital house. Very lean and not-so-mean. But I'm prepared to get meaner.
On the same day she asked, "How's it going with the house," which might sound like a friendly encouragement, she also told me she'd "turned it all over to the AG's office."
Let's not forget, that in divorce BOTH parents have to have a place to live. Both parents need food, electricity, wifi, and the means to make a living, or continue to hunt for the next job, as the case may be.
I am not certain my wife had thought through the ramifications of the divorce at the time I asked her about the houses. She was not concerned about MY house. Why should she be? Once divorced, it was not her problem.
Except, it is. See, if she wants to have a dad that is able to remain in the kid's lives, she has to understand that, for better or worse, we are still attached financially. The only problem is, if you don't keep this perspective in mind, you might think child support is an entitlement. You might begin to imagine that child support supersedes food and shelter for the other parent. And in the eyes of the law you might be correct. But in the eyes of your kids…
That's where the rub is. If you are willing to file against your ex-partner when they are trying to find work, when they are remaining attached and available, when they are sharing all the information they have about prospects, timing, and money. If your co-parent is doing everything they can to get back on their feet, why oh why would you then file with the Attorney General's office to enforce the divorce decree? There is nothing to get? The AG's office got $1,200 on Thursday.
Now, my fault is not figuring out how to deal with the AG's office sooner. I was advised by my attorney to pay her something. But in the months since I lost my house my income has been almost nil. I've made $4,500 in consulting fees, but the rest of my food and living expenses has been a loan from my mom. An on-going loan, that I ask for and renegotiate monthly. And of course it comes with intense scrutiny and baggage. She'd prefer I not do anything but stay at home and look for a job.
But my job search has been aggressive and fruitful, but has not produced the required salary that would support my child support obligation AND a place to live. At this point even an apartment is out of reach. And if I can't figure out a path forward with the AG's office, I suppose I'm going to jail.
My guess is that my ex-wife would not have wanted me to go to jail. But she didn't show any remorse about the embarrassment of the AG's lien against me on Thursday, or the fact that this shut down 100% of my financial options for the long holiday weekend.
We lean on family in times like these. And I am grateful that my mom has not only a place for me and my kids to live, but also a little money to help me get through this moment between a rock and hard place. But I'm feeling the squeeze.
When my kids leave their mom's house it is expected that I can shelter, feed, and entertain them. But when my ex-wife filed against me with the AG's office, while I was showing her my income, talking to her openly about my financial issues, essentially showing her all of my cards. And even when I was negotiating with the mortgage company to reset my mortgage, and she was aware that I was trying to do this to keep the house, she filed.
On the same day she asked, "How's it going with the house," which might sound like a friendly encouragement, she also told me she'd "turned it all over to the AG's office."
I am proof that you can co-parent with a gun to your head, but it's a lot harder.
Today, stripped of my house and of all but my bed and a few clothes, I am lean and getting mean. I'm not sure what options are available to me today. But as things get better, and I get stronger, I'm going to revisit the entire agreement between us.
Starting with my court-ordered weekends. I'm going to ask we go back to 1st, 3rd, and 5th weekends again. I gave them up to allow my ex-wife to sync her schedule with her boyfriend's schedule. Well, since his kid is now off to college, it shouldn't matter to her. But to me, it's the possibility of an extra weekend about 4 – 5 times a year.
Dad's house is important. Please remember this. If you are fighting to hurt your ex, your fighting WILL hurt your kids. As you strike a blow of entitlement, you are also stripping away some of the trust and goodwill you both agreed to in cooperating during the divorce process.
Well, I am proof that you can co-parent with a gun to your head, but it's a lot harder. And I can only imagine, how in that moment when I was nearly begging for compassion, she must've been holding onto some anger, some vindictiveness that prevented her from seeing the kid's experience of what she was about to do. But I can't imagine doing the same, had the tables been turned. If you are still angry with your ex you need to get that stuff out in other ways. Rousing the "enforcement" of the state has dire consequences. And there was no "enforcement" to be had. Even in seizing my account last week, she is no closer to getting the monthly support payments back on schedule. But she has thrown me, and thus the kids when they are with me, back a year or more in this journey back home.
I initiated some talks this summer to see if "birdnesting" in the house might be an option. It was at the request of the kids. During one of the first sessions, my ex got so angry, lit up the room with her fury, about how I was not doing my part of the parenting, with doctor's appointments, and dental appointments, and etc. Her list, I am sure was as endless as it had been when we were married. Except I am not the cause of her anger. She's responsible for her own on-going anger issues.
I was happy to have a counselor in the room to settle things back to reality. And the next day I let the counselor know I wasn't going to be pursuing the birdnesting. I don't ever need to open myself up to that rage again, about anything.
Update: I saw my Asteroids machine for sale on Craigslist. So asked them if I could get some of my personal items. Here's how they responded.

Update #2: this was hard, but at least positive.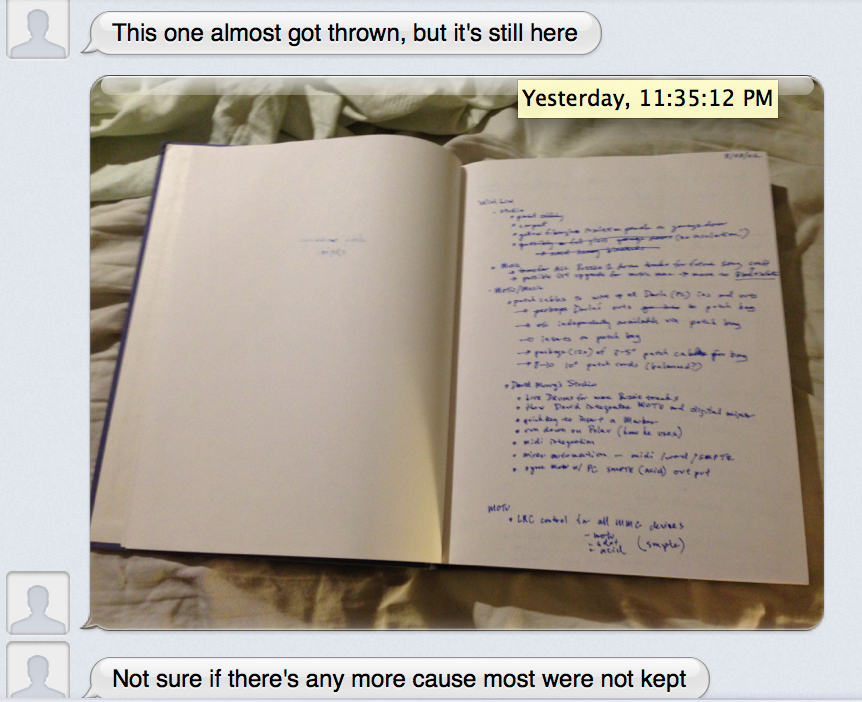 And a bit of a sad moment, my Asteroids machine, that I bought during college is for sale on Craigslist. And you can see my dresser and dining room set in the background. I am negotiating with the guy to see if I can get one thing back, maybe trade for it. It's humiliating.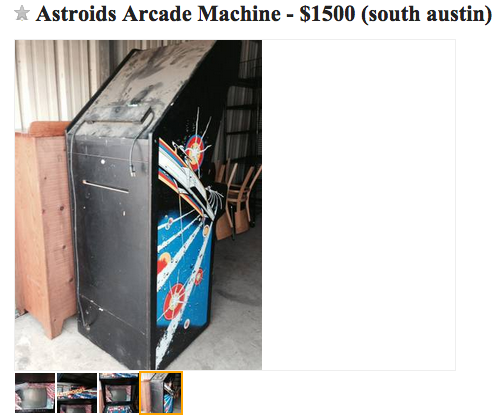 And I am meeting the gentleman and his wife this afternoon to recover some of the personal items that they couldn't sell. They are also selling me back my printer and a hard drive. It feels like something out of Risky Business. "Never fuck with another man's empire, Joel."
Hopeful, happy, and upward.
Sincerely,
John McElhenney – life coach austin texas
Facebook  | Instagram | Pinterest |  @theoffparent
As a certified life coach, I've been helping men and women find fulfilling relationships. If you'd like to chat for 30-minutes about your dating/relationship challenges, I always give the first 30-session away for free. LEARN ABOUT COACHING WITH JOHN. There are no obligations to continue. But I get excited every time I talk to someone new. I can offer new perspectives and experiences from my post-divorce dating journey. Most of all, I can offer hope.
back to The Hard Stuff
related posts:
image: this was the story of the hurricane, ulisse albiati, creative commons usage
---