Wisdom from the trenches – "responsible separation"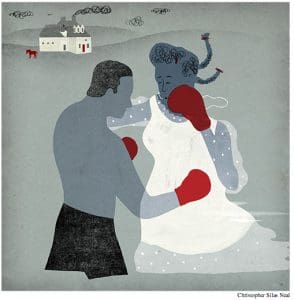 "What can we do to give you the distance you need, without hurting the family?"
He kept saying, "I don't love you anymore." And "I don't like what you've become."
She kept saying, "I don't buy it."
I think the roles are reversed for me in this situation, but these words were those of Laura A. Munson writing in the New York Times about her husbands request for a divorce.
WOW.
So she committed to her happiness regardless of what external circumstances brought her, and she said "No," to her husband's request. And she offers some interesting wisdom that I know I need to grok more fully.
So I had become the keystone in my ex-y's anger. And my questions regarding her rage, and did she think she was going to turn into a happy person, simply by me walking out the door? I don't think she really ever responded to my question. But perhaps I wasn't asking. I was telling. And I was NOT agreeing to walk out the door.
And that's what I was striving for, but perhaps I turned it into a marital fight without meaning to. Yes I pressed, but I was exhausted about being held at arms length from the love of my life, and trapped in the box of indecision. It wasn't the sex, it was the simple expressions of caring that were difficult for her. And a warmth that I had come to crave was being withheld.
My connection to this story continues here: Strengthening Your Core Happiness
Sincerely,
The Off Parent
< back to The Hard Stuff pages
Reference:
Resources: