The Relationship Strategy: Moving Beyond Divorce
I'm kinda tired of writing about the ex-y. I'd like to walk away from this blog tomorrow and start the new chapter, the new symphony.
The other day, as I was waiting for one of the "women with potential" to show up, I wrote this Relationship Strategy list. Just like I would for an online marketing project I was taking on. Here I was, getting ready to hang out with this woman, and I'm designing the strategy for getting beyond dating and into relationship. I knew this wasn't really just about her, it was a framework, that I was hoping would be trashed by passionate overtures. Um, I'm still waiting.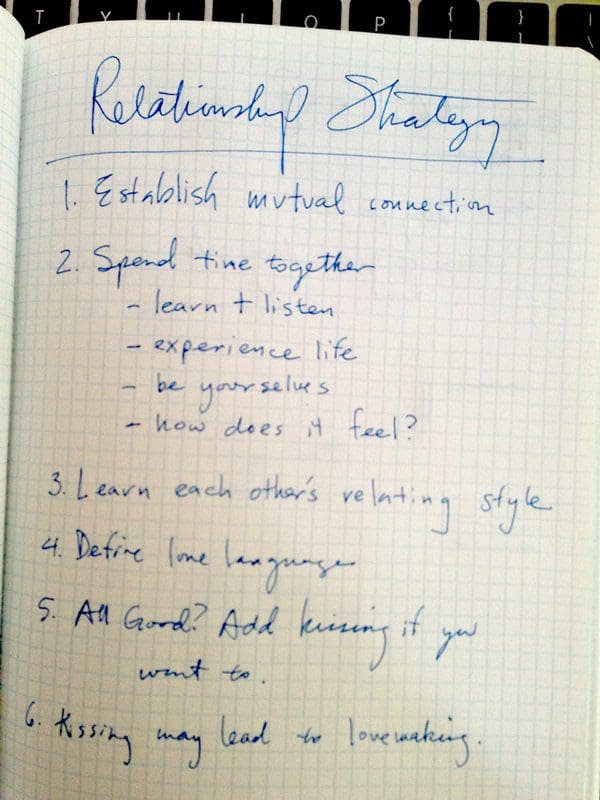 Let's put these in text where you can read them.
1. Establish mutual connection
2. Spend time together
 - learn + listen
 - experience life
 - be yourselves
 - how does it feel?
3. Learn each other's relating style
4. Define love language
5. All good? Add kissing if you want to
6. Kissing may lead to lovemaking
That's it. Pretty simple. The part that's not simple is negotiating and navigating the process with someone who is terrified of moving down the list. Or maybe inexperienced at deep relating.
And a question I am asking myself in regards to the woman who is at least present is, "Can the crazy unbridled passion still be unlocked when kissing, etc. comes into play?" Because if it's all cerebral and calm and calculated, I'm concerned she might not ever light up.
But I am committed to seeing this woman off the planet of over thinking and into something. I'm not sure it will be kissing me, but hey… I'm still interested. (stay tuned)
The second "woman with potential" has gone missing. We've exchanged messages and a few potential schedules, and she's chilled them each time. I'm not surprised, as she seemed to have a much more complete life. I am about to ask her about "holding on loosely, vs. pursuit." I have the feeling she prefers to be in complete control. And again, if I fit in, great. If not, she didn't really NEED a relationship in the first place.
Are adults often stuck in this model of relating? I love the idea of independence  I'm just understanding the value and risk at giving up my solitude and semi-unlimited creative time. But it's not where I want to end up. I aspire to be in a connected relationship. And part of that connectedness is having a partner who wants to be deeply connected as well.
Sincerely,
The Off Parent
< back to On Dating Again index
related posts:
resources: