Followed by the Black Dog (of depression)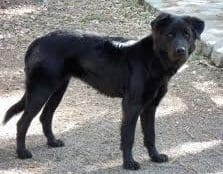 He came out of nowhere with a grin and a wild look in his brown eyes. The black dog began following me this morning on my walk. It was as if he was lonely for someone to cruise around with, and he took my singing with the iPod as encouragement. And he was like a shadow.
So much of the time recovering from divorce is about recovering from depression. "Clinical" or "temporary," depression is a bitch. It keeps you in bed when you should go to work. It makes you eat crap when you should really start watching what you eat even more carefully. And for me, the worst part, it makes ME isolate like a motherfucker. That's the killer for me.
I'm not depressed at the moment. So I am able to see and respond to the black dog [sadness] with an open hand. My energy level is high, I'm walking, so that's good, and the music is weaving its tentacles in my brain and I'm feeling quite buoyant at the moment. So where did the black dog come from?
One of the most pivotal moments in recovery is admitting to yourself that depression is a problem. For me, isolation is pretty deep on the list of symptoms. By the time I'm isolating and fucking up at work, the other mechanics of depression are in full bloom.
My check-ins look kind of like this:
eating
sleeping
sexual desire (even masturbation can be a positive sign)
laughing or playing
calling people back
spending time with friends
When any of these balance points gets way out of whack I'm heading towards a wrestling match with the black dog. The last real battle lasted 4 – 5 months and could've easily killed me.
So when the black dog of depression is showing itself, I try to take evasive action as soon as I can.
Evasive Actions:
go for a walk
play a game (online with others if I can't be with real people)
clean up my diet (it's amazing what junk food and sugar highs can do to your overall life-performance)
see if there's anything pornographic that interests me (if I can get an erection, at least I know I'm alive, I have a desire)
call one of my D-buddies ("Um, I'm just calling because I don't want to call, and I don't want to get together for lunch or anything.")
meet with my counselor or doctor (talky therapists are critical, and meds doctors are too, if you've ever had deep bouts of depression)
The most important thing for me is to stay out of the isolation chamber. That is where I slowly, patiently, kill myself.
So this morning, I'm not feeling much charge from the depressive side of my life at the moment, and the black dog is more of a friend and companion. He won't come close enough for me to pet him, but he smiles at me just the same. He keeps his distance, I keep singing along to the music on my iPod, and we mosey on down the road together.
And then out of nowhere appears another set of black dogs. The twins from down the street. These guys I know.
For a minute I'm not sure if the black dog is going to gel or fight, but I keep walking, imagining they're going to work it out between themselves.
I look back about 5 minutes later, to see if the black dog is still with me. The three dogs are doing some sort of ecstasy-daisy-chain-circle-dance, They are lost in their dog-ness.
I am happy the black dog has found better companions. I'm not afraid to befriend him. The converse is true. Depression is part of loss. And if you are FEELING the divorce, you will probably feel depressed.
For me, this blog became one of my re-stabilizing forces. I write to process. I write to learn and make sense of what is happening. The first time, when my ex-y asked me to take it down, I was depressed. What I realized only later, was that I was in the early stages of depression. By shutting down the expression of my anger, sadness, and loss; by killing this blog, the first time, I actually hastened my own slip further into darkness.
Today the black dog (of depression) is my friend. I will see him again from time to time. He will travel with me for a bit. And we will part ways when one of us has a more interesting opportunity.
Sincerely,
The Off Parent
< back to The Hard Stuff pages
related posts:
resources: