My Funny Man Divorce: A Little Bill Murray a Touch of Robin Williams Mixed w/ Ferris Bueller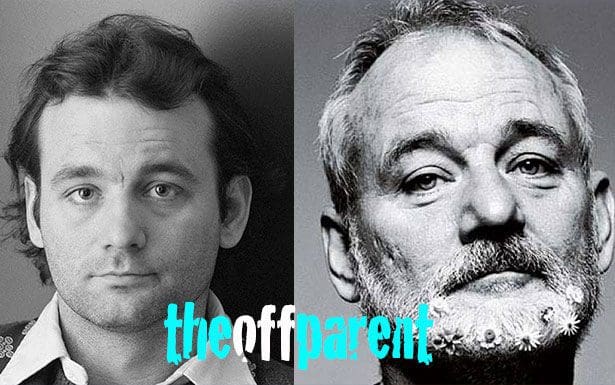 If anyone can explain why he hasn't been able to find the love of his life it's Bill Murray. And I've often been likened to a younger Bill, so I read this Vanity Fair article with a bit of self-interest.
"Not to diminish a relationship with a woman but I can't take care of another relationship if I can't take care of the things I really need to take care of the most. It's not a selfish thing . . . it's just sort of an obligation." – Bill Murray
What Mr. Murray latches onto as his reason for not being in a relationship is his own lack of attention and self-examination. He mentions his children from his previous two marriages, but it's clear Bill hasn't found what he's seeking in a woman.
Murray did admit that he wonders why, at 64-years-old, he still hasn't found the great love of his life.
"I do think about that. I'm not sure what I am getting done here. I do have kids. I have children that I am responsible for and I enjoy that very much. And that wouldn't have happened without women." – ibid
>He knows he need to so the self-examination work, but he doesn't really want to do it. He'd rather show up as a comedian extraordinaire and find his love in the public embrace. One of my favorite movies with Bill is Lost in Translation. It seems to capture the loss and ennui of Mr. Murray's self-reveal in this article. Fascinated and crushing on the young Scarlett Johansen, Mr. Murray tells much of his life story. I'm guessing that this film captured a bit of what it must be like to be Bill Murray. Detached and disoriented by the "jobs" that send him all over the world. Drawn to youth and beauty. But in this touching film, the father-figure chooses not to take advantage of the young woman. It's an amazing moment. And it's a huge win for both characters and the film.
Only from a place of inner-wisdom and self-knowledge can you hope to regain your balance in life and open your heart back up to the possibility of love again.
And Mr. Murray plays his role in a number of Wes Anderson movies as well. Perhaps it is easier for him to act out the scripts that others put in his mouth rather that examine or work through his own troubles.
Robin Williams is another character and body type I've been associated with. I share the bear-ish shape with these two rock stars as well as some of their demons. Whatever depression Robin was dealing with, he killed himself while his adoring wife slept in the next room. How terrifying. How dark his night must've been to extinguish even his bright star of hope.
AS a bit of a frenetic funny man, myself (I'm not putting myself in the same league with these greats, please.) I am also prone to flights of fantasy and falls of desperation. And it's wonderful to hear that someone as buoyant as Bill Murray can come out and share his own difficulties, much like he does in Translation. I can take a different path from either of these body doubles. (I wrote myself in as Ferris Bueller in divorce, as well.
I am committed to self-examination and taking care of as much of my sh*t as possible. In the same spirit I can do what it takes to keep my dark thoughts at bay. Often it is the self-examination and self-revelations that come from doing deep work, that keeps me above water. Bill speaks of the difficulties of stripping off the mask and looking at the ugly truth.
Asked what has stopped him from committing to himself, Murray continued, "What stops [any of] us is we're kinda really ugly if we look really hard. We're not who we think we are. We're not as wonderful as we think we are. It's a little bit of a shock . . . it's hard." – ibid
As men, we are often not encouraged to dig deep and feel what's going one. The man's role in the world is to be strong, to be stoic, and to be a good provider. I don't see either of these men being described as feeling fathers. Perhaps Mr. Murray has had to distance himself a little from his role as a father. (Of course, I have no idea.)
What it takes, as a man, to deal with divorce is the courage to strip away the facade and let the feelings and frustrations out. You can do this in therapy, on a blog, or with friends. You cannot do this with your kids or your ex-wife. But most of all, you have to do it. You have to strip back down underneath Bill's Caddyshack character and understand what's hurting inside. Only from that place of inner-wisdom and self-knowledge can you hope to regain your balance in life and open your heart back up to the possibility of love again. Because with the risk of love comes the risk of failure, again.
Sincerely,
The Off Parent
@theoffparent
Note: My brush with greatness involves Bill Murray. I was on the set of Ghostbusters, my sister worked for Warner Bros. at the time. During a break Bill came around the corner and saw a teenage boy standing there in red painter pants. "Whoooooo's the madman!" he shouted, as he reached out and shoot my hand.
References:
back to The Hard Stuff
related posts:
images: bill murray, publicity shots