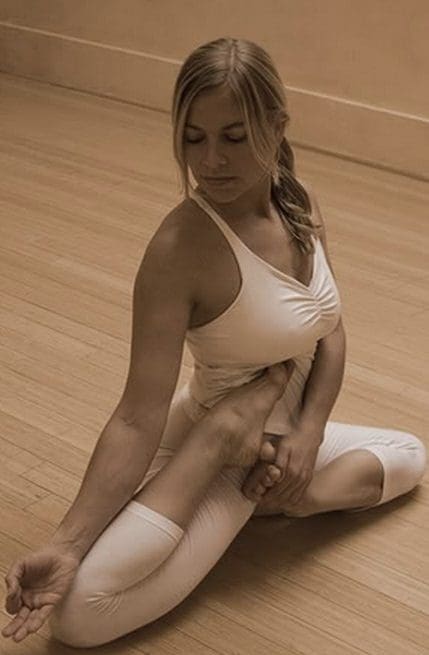 There I was leaning into her new red Prius, talking about PR and yoga and her plans. It was as if I had put my head into a spaceship and was looking at some Penthouse forum photo of "the yoga girl next door." But there was nothing going on. She was a next-door neighbor, and I was asking her about her work and her Prius.
I'm guessing she's in the 20-years-younger range. Blonde. Stunning body in black tights. Raybans. Biggest smile you've ever seen. And what would I have done with her if she had been asking about coming over later? (She was not.)
I've been dating.
As I walked the long distance back to my car after the kiss, I was erect as a bar of iron, and wondering how — in my fkd up state — someone else could be attracted to me.
This is the first "relationship" I've been in since my divorce. The other two were both in the neighborhood of one week, and that's not a relationship, that's a fly-by. The first one was the woman who slept with pit bulls. The second one had the prettiest smile you have ever seen, but she lived 80 miles away.
So I wouldn't say I'm experienced. In fact, I would say I'm a newbie in the department of dating. And dating as an adult who's about to cross into my 50's, I have to say, things are very different than when I was last on the market. I'm different. The women are different. I have two kids and a schedule that imposes some initial absence regardless of how fast I want to go in terms of hanging out together.
Sure, I've got an OK Cupid profile. (Tried Match and eHarmony.) But I haven't been working it. And from the depths of my aloneness, I wasn't in any mood to be imagining or looking for companionship. In fact, I was flat out deluded about how far fked up I was.
Enter attractive 54 year-old woman on OKC that says, "Hey, why didn't you respond to my last email?"
If warning bells are going off it's only because she is into ME too much. Or more than I have ever experienced. She was telling me I was "much more attractive" than my profile over our first drink together. And in the parking lot, as I walked her to her new convertible Mini, she held up before opening the car and half-kissed me. We still joke about who kissed who, but she HAD been dating a lot. And she was prone to "trying out the kiss" in the parking lot, even on the first date. I had not kissed any of my "dates." You tell me…
And as I walked the long distance back to my car after the kiss, I was erect as a bar of iron, and wondering how — in my fkd up state — someone else could be attracted to me. Was that in itself a huge red flag?
OR… Did she see something in me that was solid and cute and funny, regardless of how I was feeling?
Three days later, we were kissing on my couch as a prelude to the trip upstairs, where she said as she was unbuttoning my pants, "You don't know how long it's been!"
Two months later… Well, I've driven the Mini quite a bit.
Am I looking for some erotic ideal that is more about masturbatory fantasy and trophy wives that parade around the nearby HEB in their yoga pants.
But there is something that I am not feeling, that I think I should. As we continue and she confirms repeatedly how much I fit her picture of a prime fit, I am not sure. I did not have the euphoria associated with passion. I don't crave her. Her beautiful blue eyes and easy laugh are wonderful, but for some animal reason, I would not pick her out at a party as someone I wanted to get to know. She is attractive. She is a bit older than any of my previous relationships. She is completely crazy about me.
Am I out of my element? Am I looking for some erotic ideal that is more about masturbatory fantasy and trophy wives that parade around the nearby HEB in their yoga pants? (Don't they have to work? Um… No, they don't.)
So I have a woman who craves sex and time with me. She does not play games. She has told me from the beginning how delicious she thinks I am. She even told me, after a lengthy discussion about my previous relationship history, that she wanted to learn how to give me the best blow job ever. (WHAT?)
The yoga girl next door represents a college-age fantasy. I am not of college-age. She is thin, beautiful, and I would assume, somewhat spiritual, being a yoga instructor and all. But she and I have nothing in common. Would I find things about her that fascinate me? Would she cook me a meal, come over to my house, and leave me with leftovers? (like a tame Penthouse Forum post)
My experience, thus far in my life, says no. My experience, thus far in my life has never had someone so crazy about me. I feel almost guilty about not being able to return the level of excitement about her. I am trying. I am stretching. I am exploring everything with her, to see if the animal hotness grows. I mean, the truth is, I was depressed beyond measure. And NOTHING sounded good. I didn't crave anything, not even ice cream. So how could I expect my senses to crave this available woman?
Sincerely,
The Off Parent
*This post was written on Nov 2012.
< back to On Dating Again index
Additional posts:
---
[from a second wave – poetry]
take action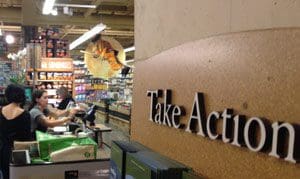 the yoga girl is leaving the building
all dating sites are down
and i'm sitting here
earbuds and bubbly water
wishin, hopin, thinkin,
i'd make a good snuggle bunny
with shea butter and coconut
and moves that make me blush
recalling how much i'm out of practice
i can still smell her
the last one
i would fall back into her arms
if harms way was not right after
there's no going home again
once the ship has been burnt
and sailed
and
nothing
i've got
nothing
as she glides effortlessly by
down and away
with not a nod or side glance
a girl like that
she's going home to someone
she's eating organic
she's doing yoga
she
is a figment of my peripheral vision
i nearly catch a glance of something possible
and it know it's my
issue
all this longing
and words
and l e t t e r s
take action
i tell you
this sitting
writing
pining
is
not
working
and it's not part of the plan
either
get up
get out
get going
10-29-14
image: take action at wfm, the author, cc 2014
---
Sittin here on Valentine's Day, watchin the comings and goings in my local neighborhood up-scale coffee and wine bar. And I notice her, getting out of a white 535i. She's wearing her yoga pants, has her dark hair in an athletic pony tail, and bounces out of the car and heads for her sandwich pickup. There is a "guest" sticker on her warmup top, where she's just come from her kid's Valentine's day party. She's proud, happy, pretty, and it's a sunny day. All good.
Except there's something stuck in my craw. What's the path that creates these young entitled goddesses? And why when I am walking the grocery, in same up-scale neighborhood HEB, do I long after their rocket bodies and astral attitudes? I think of the Mathew Sweet song, "But does she talk?"
So I long for them. But I also have a bitterness about them. And I want them. And they represent the affluence I aspired to when I was married. But there they are, and here I am. And something about their entire life path seems trivial to me. AND… Truth is, I know nothing about them, their marriage, their career, their path in life. I know about things.
They are young and beautiful. (is this the rub?)

They have ample money and ample free time. (Don't we all wish for this?)

They love their children.
What is it about this culture that has me lusting after these young bodies and beautiful smiles? And what same culture has me bitter (just a little) about my path in life and the fact that I didn't get to accomplish the financial prowess of my father. (Yeah, but how did that end up for him?)
So, this sweet young thing, hops back to her $50,000 BMW and buzzes off to what's next in her life. And I know nothing about her. But I want to be her… what? Her husband? (Um, a bit too worried for that.) Her lover? (What would I do with her once the sex was done?) I want to be her… DAD? I'd love to be able to provide the life for my daughter that I would've hoped to have provided for my now ex-y.
There is some double standard going on, that has many of us a bit confused.
If they are too pretty or too successful or too… something. They are either spoiled brats or kept trophy wives. It's MY sickness. It's our culture's sickness.
Aspire to a woman with a great body and a great mind. Pray, exercise, work, improve. But when you seen HER, the IT GIRL. We are angry with her, not desirous of them. HUH?
Sittin here on Valentine's day, I'm sitting in judgement of other peoples lives, wives, successes, fortunes. And I'll drop it here and rise above it. But I wanted to express and capture a moment of my own confusion, and acknowledge the conflicting culture we live in. And then I can clearly state, I DON'T LIKE JEGGINS.
So happy single day, to my single friends. And happy Valentine's Day to those who have significant others. And I'll focus on my 10 yo daughter today and get my mind out of the BWM and LuLu Lemons. But I'm aware there is a problem.
Sincerely,
The Off Parent
< back to On Dating Again index
Resources:
---