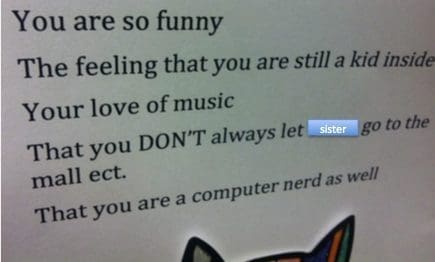 Sometimes it takes a 3rd party to show you how good you've got it. This weekend a sitter asked my kids to write a simple page about why they like me. Above is my son's observation. (I'll share my daughter's in a later post about fathers and daughters.) A few of the things I am grateful for in my divorce (see it's not all rant and rave):
We don't fight (we didn't, but we still don't)
We always put the kids first (if I can be flexible and help her, it's best for the kids. If I get more kid time as a result, so much the better.)
She's a great mom and I try and recognize that as much as possible. (She's not just the mother of my children, she's someone who I still care about deeply. And she has a huge responsibility with the SOP in getting them to school, fed, loved, and cared for. And she rocks it. Regardless of how my anger often blows out on this blog, I don't…Try not to…let any of it fly her way.)
I have a lot of time to grow myself into a better dad, a better lover (eventually), and a more responsive and expressive human.
My kids and I can get silly for hours at a time. (some of the policing she provided, might not have been necessary. Now we don't have it. I'm the police, jester, and mediator, all in one.)
When I have my kids I am ON 100%. (Dating and all the crap that goes with finding a new relationship, takes a back seat to my kids. Always. I'm glad we have a 6-month before introducing a GF or BF rule, but I haven't even gotten close. I'm not looking for "almost' or "good enough" this next time around. I'm looking for extraordinary.)
She takes the best care of them she can. (I was always amazed at the kid-centered activities she could come up with. She's better with the school activities. She's much better with painting and crafts with friends… She's got a ton of great gifts that she is giving to them as well.)
+++ No buts.
My anger is my own. My kids are a shared resource and responsibility. My ex-y is a wonderful human being who is doing her best in the world.
We're done, but we're never DONE. Like it or not, she's in my life for the duration too. Her eventual BF-to-husband, is merely a matter of time. Dr. Marriage Divorce Counsellor said, "The deciding parent is often a lot more able and willing to move on. They've been moving on long before the actual divorce happens."
How that still makes me sad I don't know. But she moved on. And the more I support her "what's next" the better it is going to be for my kids. (It might still hurt, but that's part of growing into this new world order, and getting on with what is good for me too.)
This blog aside, I keep my shit to myself for the most part. Maybe too much when we were married, to the detriment of my own happiness. But I don't have to do that now. My anger is my own. My kids are a shared resource and responsibility. My ex-y is a wonderful human being who is doing her best in the world. It is my hope that The Off Parent is more about me and my struggles, joy, and recovery than it is a bitch-fest about her. Sure I can go there. But in the real world, I leave as much of it HERE as possible.
Always Love,
John McElhenney – life coach austin texas
Facebook  | Instagram | Pinterest |  @theoffparent
Get the complete single dad story with John's new book: Single Dad Seeks (available in all formats)
related posts:
Please check out some of my books on AMAZON.
---
---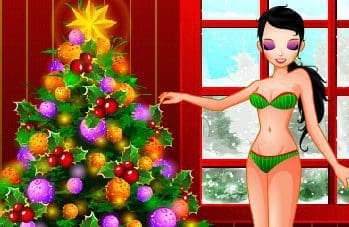 It happened last night. The "big" conversation. It wasn't that I was trying to avoid it, but I didn't really prepare for it. What can you do? Be open and honest.
She, the "girlfriend," was asking about the balance in our relationship. She was/is/has been expressing her desire and affection for me. She was curious if I was enjoying our relationship for something more than affection, comfort, sex, and closeness.
Huh?
Okay, I knew what she was asking. In a subtle way, she's been asking all along, "Do you love me?" Not directly, that's not what she was asking, but she wasn't hearing the words she was seeking when she professed her affection for me.
I tried to explain:
"I'm unpacking a lot of old baggage. You are helping me un-armor and open up. And we connect on so many levels. I am certain that I don't know the answer to what  you are asking, but I am giving you all of my available time, I'm not looking for another relationship, I am here."
She retreated to the familiar, "It's okay. I mean, I know you like me a lot."
And I didn't say this, "That is enough. That is all I have."
We've been "dating" for 95 days. And it is Christmas. Her first Christmas post-divorce. This is my third. And I'm damn happy. Well, I'm not 100% happy. I'm still missing my kids deeply. But I'm confident that they are in an okay place with their mom, and they will be excited to see and be with me starting tomorrow at 2pm. (Christmas Day.)
And she may be right when she says that she's my "healing relationship." And I'm okay with that. But what I do know, is that I have very few "adult" experiences of being with another person.
We are equals. She doesn't need me. We have good solid lives. We enjoy time together. And we make plans to spend as much time together as possible.
What more is there, at this point in our trajectory? Anything else would be jumping the gun, in my opinion. And I'm certainly not stepping in to fill her Christmas sadness. I can't. I don't want to. And I won't. She's got to work that out on her own. I will be there. I will hold her. And I will be with her and her kids tonight, Christmas eve. (Because I can't be with mine!)
And we will be boyfriend and girlfriend.
And that's enough, for now.
Sincerely,
The Off Parent
< back to On Dating Again index
Resources:
---
Kids. Pets. A House. A neighborhood. A lifestyle.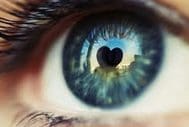 There is no escape from your history with this person. And the loss of so many touchpoints in such a short period of time… Devastating. As I tried to capture in the Jetpack post, you have no idea that you are about to go into free fall, but it is coming nonetheless. And the reaction and recovery from that shock can determine your trajectory over the next several years, maybe lifetime.
Another U2 song then quickly becomes a new anthem. "I Still Haven't Found, What I'm Looking For."
One of the things I realize, as I am now single again, is my complete commitment to my previous relationship. What I was certain of, and what perhaps prevented me from noticing the devastating changes in my marriage, as it was falling apart, is I was IN. There was no hesitation or ambiguity about my loyalty. Even as I fell further and further into lonliness and depression–WHILE STILL MARRIED–I was unaware that the foundation of my marriage was in danger. For me I was still 100% committed. While my ex-y had already consulted with a lawyer about "options."
So I'm learning, or at least exploring, that adoration must go both ways for me. And I'm not talking yoga instructor hot, but there has to be a sense of overwhelm, intoxication, before I'm convinced that the object of my affection is enough. I'm still trying to figure out if that is an unrealistic or unhealthy expectation. Or if it is a requirement that wraps up my imagination in a way that excludes any other woman.
Too much intoxication or obsession signals a different problem. And probably points to an unhealthy relationship with my primary care providers, mom and dad. But not enough and I'm not sure that I've found what I'm looking/longing for.
Sincerely,
The Off Parent
Resources:
---