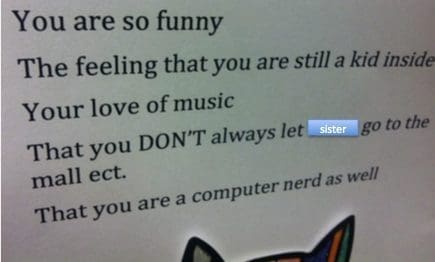 Sometimes it takes a 3rd party to show you how good you've got it. This weekend a sitter asked my kids to write a simple page about why they like me. Above is my son's observation. (I'll share my daughter's in a later post about fathers and daughters.) A few of the things I am grateful for in my divorce (see it's not all rant and rave):
We don't fight (we didn't, but we still don't)
We always put the kids first (if I can be flexible and help her, it's best for the kids. If I get more kid time as a result, so much the better.)
She's a great mom and I try and recognize that as much as possible. (She's not just the mother of my children, she's someone who I still care about deeply. And she has a huge responsibility with the SOP in getting them to school, fed, loved, and cared for. And she rocks it. Regardless of how my anger often blows out on this blog, I don't…Try not to…let any of it fly her way.)
I have a lot of time to grow myself into a better dad, a better lover (eventually), and a more responsive and expressive human.
My kids and I can get silly for hours at a time. (some of the policing she provided, might not have been necessary. Now we don't have it. I'm the police, jester, and mediator, all in one.)
When I have my kids I am ON 100%. (Dating and all the crap that goes with finding a new relationship, takes a back seat to my kids. Always. I'm glad we have a 6-month before introducing a GF or BF rule, but I haven't even gotten close. I'm not looking for "almost' or "good enough" this next time around. I'm looking for extraordinary.)
She takes the best care of them she can. (I was always amazed at the kid-centered activities she could come up with. She's better with the school activities. She's much better with painting and crafts with friends… She's got a ton of great gifts that she is giving to them as well.)
+++ No buts.
My anger is my own. My kids are a shared resource and responsibility. My ex-y is a wonderful human being who is doing her best in the world.
We're done, but we're never DONE. Like it or not, she's in my life for the duration too. Her eventual BF-to-husband, is merely a matter of time. Dr. Marriage Divorce Counsellor said, "The deciding parent is often a lot more able and willing to move on. They've been moving on long before the actual divorce happens."
How that still makes me sad I don't know. But she moved on. And the more I support her "what's next" the better it is going to be for my kids. (It might still hurt, but that's part of growing into this new world order, and getting on with what is good for me too.)
This blog aside, I keep my shit to myself for the most part. Maybe too much when we were married, to the detriment of my own happiness. But I don't have to do that now. My anger is my own. My kids are a shared resource and responsibility. My ex-y is a wonderful human being who is doing her best in the world. It is my hope that The Off Parent is more about me and my struggles, joy, and recovery than it is a bitch-fest about her. Sure I can go there. But in the real world, I leave as much of it HERE as possible.
Always Love,
John McElhenney – life coach austin texas
Facebook  | Instagram | Pinterest |  @theoffparent
Get the complete single dad story with John's new book: Single Dad Seeks (available in all formats)
related posts:
Please check out some of my books on AMAZON.
---