WARNING: In 5 minutes you are going out the door of this plane-in-flight whether you want to or not. Here's your divorce supply list:
1 Used Jetpack (no instructions)
Craigslist (for rent) pages
Half-priced books "divorce" section
Coffee shops and restaurants for internet access (ah, the web)
An appointment with a divorce counselor
An appointment with a divorce finance counselor
An appointment with a lawyer
What you can pack in a few bags
At least now you know what's going on. Don't panic. You can make it through this. The first step, taken willingly or with a push, is the hardest. And after a while even free fall won't be so terrifying.
The first problem is, you have a jet pack and not a parachute. Here are some ideas about how to get yours started and even potential sources for fuel.
Journal about what's happening – you don't have to start a blog, just begin putting down the words, in writing, not in your head
Get some exercise – even a walk is better than no walk. The internet and research will still be there when you get back. I know you don't want to.
Remember the wider world of life – take a trip into nature, swimming, find ways to help others
Find a tribe or two to hang with – you're not alone in this loss and disorientation, find a group to chat with, a recovery group to heal your issues, go be with friends even if you don't really want to be seen in your current state (they won't mind)
Discover computer games again (you may find gaming as a way to reconnect or stay connected with your kids. Caveat: don't overdo it with escaping into computer games, make sure you're getting your work and other healthy things done too.)
Uncover the world of the opposite sex again – I'm not advocating porn or strip clubs or erotica, but I am saying it could help lessen some of the shock (caveat: from Folding My Desire, "I slept and stayed up late cuddling with the internet. Computers and videos make terrible lovers."
Sleep well (if you are having a hard time sleeping get some help, drink less caffeine, in sleep so much of our brain repairs from the stress of the day. And you are in major stress.)
Eat as well as you can (Opt for the salad over the burger when it's feasible. Sure, comfort foods are okay, just watch the intake so the waist doesn't balloon up)
I know that's not much to hang on to as you are edged towards the abyss. But you have to trust that it's enough. You're gonna make it back to Earth.
Take a deep breath and count to ten.
Jump.
Sincerely,
The Off Parent
@theoffparent
related posts:
Resources:
* image from Jetpack Joyride (iPhone app)
---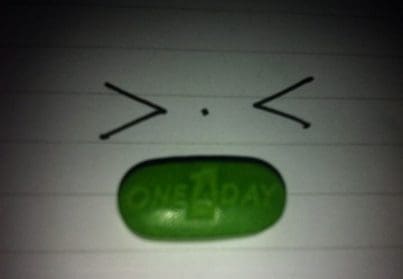 One a day, or one day at a time, is the only way to think about recovery from divorce. Recently a trusted friend said that we DO need to take vitamins, that there were some key elements (in the general population's diet) we were just not getting from our diet any more. And while I'm certain she was thinking of something more holistic than one-a-days, the price and convenience was right.
Each day, I dutifully swallow these little green happy pills. And I can't help but wonder, "When are these new minerals and vitamins going to kick in? When will I feel better?" (Of course, if you need real happy pills be sure and talk to your doctor.)
There is no map out of this land of confusion. You press on, day after day, because you must, because there are people [kids in my case] counting on you.
There are going to be good days and bad days. And even when you feel completely free of the influence of your ex-y, something will happen, a trigger, a song, a restaurant, a movie, that will trigger you feelings of longing and loss again. It's okay, it's good to feel into those deep feelings in the moment, and then move on past them.
For me, the routine is the thing. I'm usually up by 6:00 am when I do my creative writing. (I developed this habit when I needed time to write and I would wake up before the entire house to get an hour in before I needed to wake everyone else up. It was always a little like being Santa Claus. Every one was soundly dreaming away an I was up making coffee and lunches and sitting in my comfy chair and writing. It was a golden moment.
And I enjoyed the routine of getting the kids out the door every day, for school. I was the breakfast dad. And I'm sure, from what my kids tell me, things are a bit different at the old house now. My son told me he shared with my ex-y about how I get them up in plenty of time to listen to some music and roll around in bed before having to get dressed. There's always music in my house.
I do have to get the work done, so I can keep the house, and keep making child support payments, and eventually catch up on my taxes and credit cards.
So now there are 4 or 5 days in a row when I don't have them to wake up, when they are with their mom. I still get up at 6 and write. And even by myself, even on weekends, I love this time alone. And I think this blog, this writing about it, has brought me up and out of any lingering sadness completely. Not so sure about the One-a-Day vitamins. I think my friend was imagining a more holistic vitamin. (grin)
So I'm up and at it early every day. And not that it's getting really damn hot during the day, I try and get my walk in before 10 am as well. There is no question that the walking has helped a lot. Not with my buddha belly (yet) but certainly with the energy and confidence that comes from "doing what's good for you."
And today, just for a moment, speaking to my son on the phone, I wanted to be with him rather than where I was. I could've changed my day and done something else with him, but instead I stuck with the plan. I do have to get the work done, so I can keep the house, and keep making child support payments, and eventually catch up on my taxes and credit cards. Onward we go.
And walking down the road or trail with my iPod blasting, I can imagine that I will come through all of this in a better place. (Hey, maybe that One-a-Day is working.)
Sincerely,
The Off Parent
< back to The Hard Stuff pages
see also the depression tagged posts
Related Posts:
---