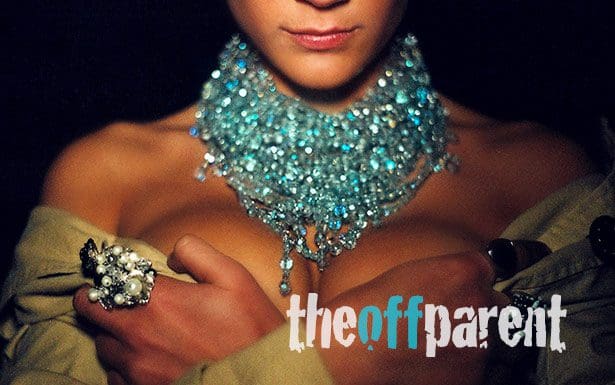 "So you know what, I'm having sex alone. Bummer. Are you having sex?" — a txt message to my then-wife.
In couple's therapy we seemed to focus on me and my issues. She kept bring us back to some crisis of trust. Over and over. It was as if I was an alcoholic or something and I kept slipping. But it wasn't quite that dramatic. Something else was at play.
As your partner begins withdrawing from sex, they are giving you a strong signal about something.
They are having an affair (emotional or physical)
They are getting ready to divorce you (pulling back to lessen their involvement)
They are dealing with some psychological issues of their own
They are angry and are using sex as a means of manipulation
They are tired. Tired all the time. (this indicates some other potential problems)
Conscious sex (fully-engaged) requires both partners to be sober and open. When there are unresolved issues it becomes hard for the aggrieved party to join in a full and passionate way. In our case the issue of "being tired" appeared to be the most obvious excuse. This is when things were *good* between us. She would often reject my offers of a back rub, or a bubble bath, with tales of how tired she was. How many chores still had to be done. (Oh, and BTW motherfucker why aren't *you* doing them?)
Sex is not everything, but in our case it *was* an indication of her withdrawal.
At this point in our marriage, I could not figure out the formula, even in the pleasant times, to unlock her sexual side. Is it too revealing to share that we were both on some form of antidepressant at various periods? We both embraced the concept of better living through pharmacology, when necessary. At one point I went off exploring the #1 side effect of the med she was on: suppressed sexual desire. Yeah, I could've written the book on it. As in ZERO.
But it wasn't all her, right? It had to be me as well. Right?
What I tried.
Doing more chores, more clean up after dinner, bath, and kids to bed.
Hiring a maid once a week to take care of 90% of all laundry and household maintenance.
Worked harder to make more money and put more money into savings.
Asking in more creative and less demanding ways. Asking without asking. Showing my desire through touch and small gifts.
Leaving sexy or funny notes during the day.
Suggestive texts leading up to a night without kids.
Everything I could think of, read in magazines and online, imagine might get her in the mood.
Refrained from porn, so I'd be even more arousable, more available, more present.
But there was always something wrong. Always some reason, in her explanations, that prevented us from having sex. As it turns out, in the last year, she was probably working up the nerve to divorce me. So she was withdrawing as a way to remove the feeling from our relationship. In that aspect, I suppose, her shut down was quite effective.
As we continued therapy during this time, however, the idea on the table was continuing in our relationship. We were in therapy to save our marriage not get out of it. And yet she was not reentering the relationship in a sexual way. I wanted to bring this up, she always seemed to have bigger issues. In my case, there might not have been a bigger issue.
We were less than roommates at this point. It felt at times that I was merely in the way.
And I'm not saying I didn't have issues. I did. I do. But I was trying to be the "more balanced and loving person" by letting her agenda drive the sessions even as I was starving to death emotionally. We were less than roommates at this point. It felt at times that I was merely in the way.
The Spring Break one year before the final fracture she decided she was taking the kids to visit her aunt in the deep south valley of Texas. I was attending a tech conference in our city the week that she was leaving with the kids. It was a "nice break" she said. Where she could get some time to think about where things were.
When she returned I tried to make the house perfect. I had love notes scattered around for her to discover. Everything was spotless. I had enjoyed my time alone, but I had also been recharging my attitude for her eventual return. I was going to woo her back into love with me.
The results were not at all successful. In fact, we were in a fight within about 30 minutes of her return. Even as I was trying to go over-and-above she was angry about the way I had assumed she would be interested in sex upon her return. I can't recall the exact details, but she was pissed that I was in such a romantic mood, "right after she had just driven home for 5 hours."
"I don't think I love you any more."
At some point she not only gave up on the marriage and sex, but she began to plan her way forward, without me in the picture.
It was as if my romantic aspirations were a demand on her. I wasn't asking for sex. I was trying to show her in my actions and in little love notes how much I loved and missed her. It wasn't about jumping into bed. It was about reconnecting. Needless to say, we didn't reconnect. She stayed mad for a long time.
Something about my blog (the marketing one) was making her nervous. She was certain I was killing my job prospects by being a blogger. And she was mad about it. Furious. Scared, maybe, but it came out as anger at me. As I recoiled from the rebuttal, and attack on my creative output, I was aware of some new strain of anger.
She had taken her best friend with her to share the driving. But something new had entered into her vocabulary after that trip. She kept saying, "Pay attention to what I'm saying." And "You don't seem to be understanding how serious this is."
What she was saying in words was, "I am mad at you." And she tried this one on a few weeks later.
Now, those are fighting words in my book. But there was no fight left in her. She was done. I think she gave me the next year to figure it out. Or she needed the time to make her plans, measure her options, or something. We took a break from therapy after she described her overall feelings about the relationship as cynical.
A year later, we were just starting up therapy again. Again, right after a Spring Break trip alone. This time there would be no recovery. But what I didn't know at the time was she had already been to see an attorney. At some point she not only gave up on the marriage and sex, but she began to plan her way forward, without me in the picture. I guess this is what you do if you are the dumper (the person who initiates the divorce).
My experience of isolation and constant anger was painful and dark. When the concept of divorce was broached I was horrified and I fought against the idea with all my heart. However, as the conversations moved forward, I was also aware that too much would have to change for me to agree to stay in the relationship too. She pulled the trigger. But in the end, I too was relieved to be escaping such a sexless and toxic relationship.
Sex is not everything, but in our case it *was* an indication of her withdrawal. And had I fought at the first signs of her departure I might have saved some of our relationship. But I allowed her to dictate the therapy topics away from our emotional/sexual relationship.
At the fundamental core she had shutdown her sexual desire as she moved away from me. I could've spoken up sooner, but I'm not sure I could've steered her back into a loving relationship with me. She wanted something else. She wanted things to be different in her life. And at that moment in time, she had the kids and the nice house, perhaps in her mind it was time to seek a more "responsible" partner. Well, that's how she described it, anyway. (grin)
Sincerely,
The Off Parent
@theoffparent
back to The Hard Stuff
related posts:
image: 206, mitya ku, creative commons usage
---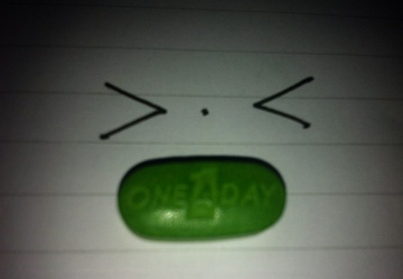 One a day, or one day at a time, is the only way to think about recovery from divorce. Recently a trusted friend said that we DO need to take vitamins, that there were some key elements (in the general population's diet) we were just not getting from our diet any more. And while I'm certain she was thinking of something more holistic than one-a-days, the price and convenience was right.
Each day, I dutifully swallow these little green happy pills. And I can't help but wonder, "When are these new minerals and vitamins going to kick in? When will I feel better?" (Of course, if you need real happy pills be sure and talk to your doctor.)
There is no map out of this land of confusion. You press on, day after day, because you must, because there are people [kids in my case] counting on you.
There are going to be good days and bad days. And even when you feel completely free of the influence of your ex-y, something will happen, a trigger, a song, a restaurant, a movie, that will trigger you feelings of longing and loss again. It's okay, it's good to feel into those deep feelings in the moment, and then move on past them.
For me, the routine is the thing. I'm usually up by 6:00 am when I do my creative writing. (I developed this habit when I needed time to write and I would wake up before the entire house to get an hour in before I needed to wake everyone else up. It was always a little like being Santa Claus. Every one was soundly dreaming away an I was up making coffee and lunches and sitting in my comfy chair and writing. It was a golden moment.
And I enjoyed the routine of getting the kids out the door every day, for school. I was the breakfast dad. And I'm sure, from what my kids tell me, things are a bit different at the old house now. My son told me he shared with my ex-y about how I get them up in plenty of time to listen to some music and roll around in bed before having to get dressed. There's always music in my house.
I do have to get the work done, so I can keep the house, and keep making child support payments, and eventually catch up on my taxes and credit cards.
So now there are 4 or 5 days in a row when I don't have them to wake up, when they are with their mom. I still get up at 6 and write. And even by myself, even on weekends, I love this time alone. And I think this blog, this writing about it, has brought me up and out of any lingering sadness completely. Not so sure about the One-a-Day vitamins. I think my friend was imagining a more holistic vitamin. (grin)
So I'm up and at it early every day. And not that it's getting really damn hot during the day, I try and get my walk in before 10 am as well. There is no question that the walking has helped a lot. Not with my buddha belly (yet) but certainly with the energy and confidence that comes from "doing what's good for you."
And today, just for a moment, speaking to my son on the phone, I wanted to be with him rather than where I was. I could've changed my day and done something else with him, but instead I stuck with the plan. I do have to get the work done, so I can keep the house, and keep making child support payments, and eventually catch up on my taxes and credit cards. Onward we go.
And walking down the road or trail with my iPod blasting, I can imagine that I will come through all of this in a better place. (Hey, maybe that One-a-Day is working.)
Sincerely,
The Off Parent
< back to The Hard Stuff pages
see also the depression tagged posts
Related Posts:
---