Your New Matches: Online Dating and the Big Miss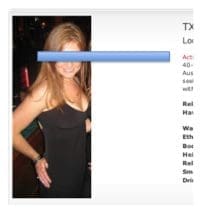 How can you just tell by the name or the age of the person what your eHarmony "matches" are going to be like?
The under 37s are almost all going to seem too young. Or so hot that I'm going to be too old. And the odd names usually mean ethnic (not necessarily a bad thing).
And then the spammy craigslist stuff just gets to the details, blonde, great tits, petite. WHATEVER!
I am learning more and more, as I merely look around, that I am an everything man. I'm not looking for a type. I'm looking for a spark. And that spark can come from any hair color, any body type, and any name. But where it doesn't come from, for the most part is ONLINE>>>.
Sincerely,
The Off Parent
< back to On Dating Again index
Resources: