When you have children everything changes. The consequences of your divorce become much larger. And now you have their lives to consider as well.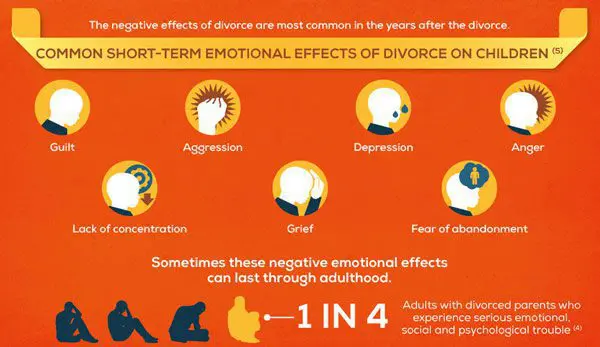 And while it's not always a good idea to stay together for the children, there are some aspects of that responsibility that can keep couples "working on their marriage" in an effort to provide a stable home for their children. And even if they decide to divorce, often that counseling can help both the parents and the children to be open and honest about the divorce when it happens.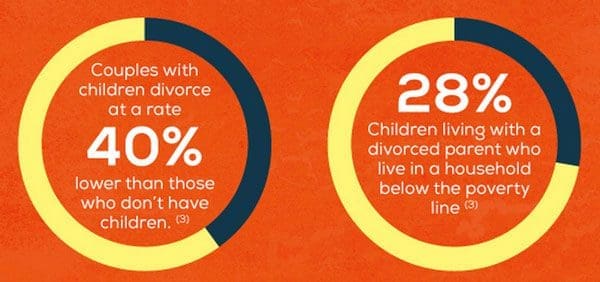 Where you live can have some effect on your decision to stay married. There can be a permissive attitude when a close friend gets divorced and survives the experience.
You can see this entire infographic at www.bestmastersincounseling.com
Some Additional Posts:
And a few more numbers for your consideration.
September 3, 2015 | Categories: divorce, kids | Tags: 2015 divorce infographic, 2015 divorce statistics, children and divorce, couple's therapy, divorce infographic, divorce statistics, divorce statistics 2015, getting a divorce, is divorce too easy, staying together, us divorce statistics, us divorces | Leave A Comment »
---
CAmazing and illuminating numbers about modern day divorce rate in the U.S. The several items that slapped me in the proverbial face were:
65% of all U.S. divorces are initiated by women

Annually, 115,000 women lose health insurance due to divorce

State with the highest rate of Divorce: Nevada (bet you could've guessed that one)

The average first marriage lasts 8 years.
How long did your marriage last? Who initiated the divorce? What were your biggest concerns about getting divorced?
Here's the big graphic.

And if you have any answers or observations on those stats please post them in the comments.
Sincerely,
The Off Parent
related posts:
resources:
January 28, 2013 | Categories: divorce, marriage, separation | Tags: 2013 divorce infographic, 2013 divorce statistics, divorce 2013 infographic, divorce and health insurance, divorce infographic, divorce rate 2013, divorce statistics 2013, Divorce Statistics 2013 Infographic, divorce trends 2013, first marriage, health insurance is no reason to stay, highest divorce rate, infographic on divorce, kids lose health insurance, lose health insurance, men lose health insurance, reasons for divorce, staying married, the off parent infographic, us divorce statistics, us divorces, who initiated your divorce, women lose health insurance | 3 Comments »
---