How Do We Gain So Much Energy from Love? Agua y besos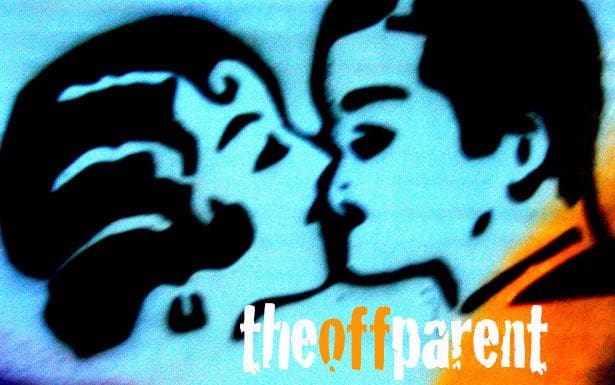 I can see how people become addicted to the rush of new relationships. There is a heady mix of lust, hunger, newness, and surprise that perks up your energy and hopefulness. And if we can stay on the positive side of it, we can use it to smash through some of the chains that might be binding us to our old relationships. Love heals all wounds, is a saying that you don't fully understand until you are back in that gravitational pull of the heart.
The newness and novelty is not love, is it? The fresh new body, never discovered or explored is not where love lies, is it? What is in the air when we have begun to lose our despair and look out towards another person with that glow? What causes the glow? And if we could sustain it, like long-distance lovers, could we stay there in the honeymoon phase forever?
And the flip side, when did it start seeping out of our failed marriages? Do the mundane tasks of work, child-rearing, bill paying, maintenance, and chores, wear away the golden glow of our lovers? Is there something we could do now to avoid that letdown?
Probably the easiest thing to do would be to protect ourselves from it. Avoid it. Stay in the surface, the sex, the passion, and the fleeting thrill of the new relationship. Once divorced, we are released from the tether and toil of our past, it feels like it's time to sow our wild oats. And I have a few friends that are truly at peace with sleeping with several partners a week. Until they hit upon one who actually begins to make them think about a future together. "She was great," my friend said. "But she really started to need me, and I'm not ready for that."
So, here we are, adults. We often have children and responsibilities from our previous relationships. And we are ready for a little adventure. Why not? We've certainly earned it.
Sex seems so new when you're with a new partner. There are different bodies, different styles, different smells, and frictions. Sex is wonderful. And sex can be… oops… just sex. And after a few of those, I was not interested in "just sex" anymore.
When the mist of desire begins working its magic again, you learn how much you have missed really having that connection with someone. The thought of them makes you smile. The txt while they are away can make you feel connected. And suddenly, uh oh, you're into it. You want more. You're not ready for what's next, you don't care what's next, you just want to keep the rush of warmth going.
Allow time with this other person to be part of what you look forward to, but don't put all your hopes and dreams on them. Right now you have agua y besos, and there is no better place for you to be.
How can you open up to the risk of love if opening up to it means the possibility of losing it again? And it is the loss of this magical feeling that is the most painful. The contrast of what your heart is feeling now vs. what you were dealing with the last few years of your marriage. It's almost enough to make you not want to go there.
But some of us are addicted. The romantic notion of love is real and alive. The hopefulness of a relationship that is durable and sustaining, is something we are prepared to strive for. Certainly, I am overthinking this, as I lean back into the casual joy of being with someone who is wild about me. And feeling those feelings again, of putting a life together that is open and vulnerable to another person.
Water and kisses are enough in the early stages of bliss. But in the long haul, you'll need to find sustenance and shelter from the storms that are always on the horizon. Better to weather the hurricanes with a partner, you think, as long as that partner doesn't betray me the way my previous partner did. And there's the rub. You've got the old feelings of loss and anger. You've got these new feelings of heat and passion. And somewhere in the middle is the reality of life.
We can't stay in the "agua y besos" phase forever. And would we really want to? I suppose the serial daters have an addiction to the new high. But I've never been able to sustain my passion when there was no more than just sexual attraction.
Feeling the hopefulness coursing through my veins again, I know that my reality is skewed and that taking it slowly is the best course of action. Too frequently we can get swept into decisions based on this wonderful glow. Perhaps that's how our last relationship ended up in divorce. But not to strive, not to believe that it is possible…
Slow down. Take it easy. Stay in the present moment and enjoy this feeling. You don't have to figure out the plans. Allow time with this other person to be part of what you look forward to, but don't put all your hopes and dreams on them. That's too big to hold. Right now you have aqua y besos, and there is no better place for you to be.
Sincerely,
The Off Parent
*written May 2014
< back to On Dating Again index
related posts:
resources:
image: first kiss?, John Goodridge, creative commons usage