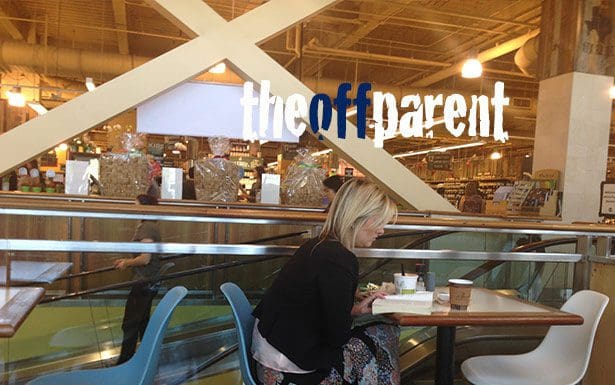 Dating and looking for romance is an odd ritual. Even as an adult, the patterns are much more like high school (maybe elementary school) than adult life. We play games. We use social networks. We put forward ideas and photos that don't really represent our lives or our current physical fitness, all for the purpose of what?
This afternoon I am sitting at the mecca for healthy and self-conscious women, Whole Foods Market (the Austin Mothership), and I am simply observing the parade of women passing by on the up and down escalator into the building. And I can see them. The happy and attractive women are here. And many of them are attached, married, dating, or otherwise unavailable. And certainly at least some of them are not currently dating anyone, AKA: available.
Is it the predatory nature of our species that keeps our eyes to the ground of the phone, that keeps us from looking at each other?
And it's a wonderful confirmation of all that is human about our different sizes, shapes, colors, and approaches to life. You can almost see it in the dress and attitudes of the people heading into, or just finishing up their organic, high-priced, lifestyle. I start at Whole Foods, because this seems to be the highest concentration of people in my preferred demographic. Young, upwardly mobile, attractive, and health-conscious, or getting there. I'm okay if she is a bit of a work in progress, or in transition. What I don't want is someone who's not even on the same planet yet.
So here they are, passing by in fitness gear, in professional work outfits, and in all stages of dress, or undress, in-between. And in the stream of women it is an interesting experiment to see who I notice, who is inherently attractive to me.
Of the "potential" types who have passed by this morning are these archetypes:
Fit, yoga, just about to do it, done it, or letting you know I'm doing it.
Just eatin lunch, stoppin by, on my way to or from work, professional.
The dressed-to-the-nines professional woman.
Casual, got out of bed, don't have work to do, hippie.
And of these stereotypes what are the criteria that interests me:
Fit or fat (sorry, it's a harsh light, and unfortunately I fall a bit more on the fat side than I'd like, but that's life)
Distracted or present.
My phone is the center of my universe, please don't disturb me.
Athletic and active.
Makeup or au-natural.
Inked or not. (no need to include the heavily inked in my opinion)
Spiffed up or casual.
But the amazing thing I have noticed, in this hour of observation and self-reflection… There is not a lot of joy in the place. The smiles that come up the escalator are not all that apparent. Why is everyone so serious, or distracted, or focused. Why, if they are entering Whole Foods are they not evolved like the food they are aspiring too? Is happiness such a rare trait? Do most people walk around in some form of isolation and closed self-expression? And if so, why?
Is it the predatory nature of our species that keeps our eyes to the ground of the phone, that keeps us from looking at each other? But that can't be it. Because a lot of these women and men have put a lot of effort and thought into their wardrobe. So what's the magic ingredient of happiness that is still so rare, even here in this rarefied air of high-end organic produce and natural body lotions?
If I were to conjure her up, at the table next to me, here's what today's journey into hunting or trolling has illuminated for me.
I'd like her pre-occupation to be on her kids, her creative projects, her dreams. And if she's actually single, then I'd like to hear about her ideas about relationships.
1. Happiness above all else. The woman who did sit across from me, who was clear and comfortable with her joyousness, was like a bright light to my magnet. In this swarm of beauty at Whole Foods there is less happiness than I would've expected.
2. Fitness within limits. Too obsessive about exercize or abs has tended to result in slightly neurotic partners, in my limited experience. So I shy away from the uber-fit. But then, I'm not uber-fit and have a fairly low trajectory towards six-pack abs. So my fitness level is a bit out of my comfort zone, and I would guess that I'd be looking for someone in the fitness zone, within a few percentage points of my own fitness level, or the fitness level I think is within my reach.
3. External awareness. Are they seeking, open, conscious. You can almost see it.
4. A feeling of optimism, even when no one is looking. In all this coming and going, I want to see someone who shines in their own inner joy. You can tell. It's like a halo or a force field. The "up" woman exudes her joy.
5. Eye contact and smiles. She's looking. She's expressing her joy. She's so much more attractive than any uber-fit, uber-yoga'd babe in my mind.
6. Mostly makeup and ink free. I'm just not a big makeup person. There's a time and a place for getting spiffed up and going out, but the grocery story, even a holy mecca like Whole Foods, is not the time for too much fashion work. And if they are mostly in makeup all the time, they're probably not the right person for me. And tattoos can be interesting, but they also seem to indicate some kind of addiction when they have to branch all the way down someone's arm or leg. And when they are trying to think of the next tattoo. If that's a focus or preoccupation, I'm gonna pass.
I'd like her pre-occupation to be on her kids, her creative projects, her dreams. And if she's actually single, then I'd like to hear about her ideas about relationships. If you're not looking for a relationship, that's fine. I am. If you're thinking you're looking for a relationship, but have no idea what that would look like, well… You might give it some thought.
And when you figure it out, I'm right over here, on this computer, typing a love poem to you. When I get bold, perhaps I'll give it to you. But not right away, I'm enjoying my voyurism. This is fantasy land. And each of these women passing could be grabbing fresh vegitables for dinner, for me. Or maybe, I'm here, working and I'll get the fresh produce for tonight. Whatever it takes to lighten us up a bit.
That's the goal. A lighter life. A path that is about joining and enhancing rather than controlling. A relationship that is founded on mutual attraction and joy rather than any kind of necessity. I want a partner, I don't need a partner. Let me think about that… Yes, I'd say that's true. I'm happier with a partner, when things are going well. But the last few years of my marriage are a type of relationship I will work to avoid.
Let's find the lighter path together. And if we find ourselves walking along it together, and continually renewing our intentions to get together again, maybe that's enough. I'm really ready for the "ready and centered" woman to show up. She's nearby, I can feel it. I'm just not sure how to catch her eye. I'm smiling, though.
Sincerely,
The Off Parent
@theoffparent
back to On Dating Again
related posts:
image: whole foods girl, the author, cc 2014
---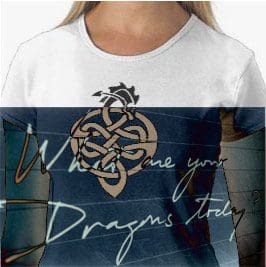 "There is no time to slay the dragon. The dragon is your friend." – Reshad Feild.
An amazing sequence of events over the last few days has triggered a new moment of self-awareness.
PART 1: I went on an OK Cupid first date with a woman on Monday evening. And after three hours of engaging conversation she gave me the, "I'll call you, okay?" She was fantastic. My first real online-dating HOME RUN. Not too amazingly beautiful or self-consumed: she was just self-aware enough, and funny, and already in my tribe/constellation of work. In other words, she fit on my MAP.
Dark hair. Fit. Very witty. Creative passion. Conversationally flexible and diverse. And strong, agressive, confident. In fact, she was so confident, at the end, she said something like, "So, I'm getting the idea that you'd like to go out again?" I agreed. "Okay, well let me catch my breath."
Uh oh.
PART 2: My own self-evaluation gave me only one answer. (Again, this is my projection, I have not heard a peep from the sweetheart behind OKC door number 1.)
I'm fat.
The only issue I could even imagine that would come between our connection on Monday night was my midriff. It's not easy to admit that. Or this. I don't think I would date me.
It's not that I'm looking for miss perfect body. In fact, when I have run across her in my past, she was so self-absorbed as to not have much time for anything else. And it's not that I'm afraid of a little softness. Actually there were times when the ex-y was way to gaunt, in my opinion. She was much more beautiful to me when she was less hard. So it's not that I'm looking for some IDEAL, playmate (puleeze) or porn star image of a woman. That's not it at all. But…
But, I'm sure I have tolerances in my taste. And there is some measure of fitness, or out-of-fitness, that simply turns off my "desire" gene off. And here's the kicker: looking at myself, I think I've fallen outside of my own desirable range of fitness. I wouldn't date me.
It's the ONLY thing I can put my finger on, about why this date with massive energy and touch points didn't end up with plans for a next gathering. There are some other possibilities. She did mention that simply turning on her OKC profile she got about 10 immediate propositions. Mine being one of those. So maybe she wants to check out the rest of the field before going on date number 2 with any of us, or me, more specifically.
But the lesson for me was: I am outside of my own tolerance for fitness. And that's something I've known for a while, but something that I did not have such a clear handle on. Which leads to the next awareness.
PART 3: I have been stepping up my fitness routine again. And part of that is walking. And one of my favorite walking locations is our local trail that curves around a small section of the Colorado River. It is amazingly inspirational to see all the people, all the different bodies and styles in motion. And I wonder about the runners. (I have been a runner before.) And their fitness levels. But of course there are runners of all shapes and sizes and levels of experience too.
What I've wondered about for a long time is what motivates runners to run. The high? Fitness? Aspirations towards the perfect body? And this time, the day after meeting my "match," I had an idea.
Maybe everyone on the trail was running AWAY from something. For me that would be: 1. getting fat(er); 2. aging and health; 3. heart fitness. OR perhaps they were running TOWARDS something instead: 1. an ideal body; 2. a competition they are preparing for; OR BINGO 3. someone they want to be with.
So I had been running away from things, but until I met my "match" not running towards anything. I've been too busy trying to reconstruct my stability, get my financial house in order (still a ways out on that one), and make progress on my creative projects. I have not really put much attention towards dating or finding that next relationship.
I had also not met anyone who inspired just that.
PART 4: The dragon I am wrestling with today is my own. I'm a bit sad that my first "match" is probably giving in to first impressions and moving on. If I have learned anything, when they say, "I'll call you," and they don't, there is no amount of persuasion or offering that will have an affect. If they say that, they are done. (Maybe I'm projecting. We'll see.)
But I am not sad about her. And I'm not really walking towards HER, but the idea of HER. I have already let her go.
It is the ME I am comfortable with that I am walking towards.
I made an observation in therapy yesterday as I was talking about this, "Maybe people in that class of fitness like to be with others of the same class. Today I'm just a bit out of the class I want to be with." I am happy with my fat self, and I am actually pretty happy over all. But I am looking to get back to the dating class where I am most likely to find a match.
I don't want the uber-fit yoga-runner babe. She thinks about little else. I want someone who's comfortable with whatever they are. And in order for them to be attracted to me (IMHO) I need to be in the same relative class, the same relative level of fitness.
Now that is something I can walk towards with a bit more vigor. Because walking away from the other stuff was okay, but it didn't have much charge to it. I can see my "match" now. Fully clothed, sitting at a table drinking coffee and smiling. She's funny. She's smart. She has many things in her own life sorted out.
And SHE DIGS EVERY SINGLE PART OF ME. And of course, when that happens, the response won't be, "I'll call you." In my movie it will be more like, "What are doing this weekend?"
That is the dragon I am dealing with today. And I'm happy to befriend him and see how we can both get what we want.
Sincerely,
The Off Parent
(The story continues: Met My Match: My Online Dating Near Miss Responds)
Reference: Steps to Freedom
 – Reshad Feild
< back to On Dating Again index
Resources:
---