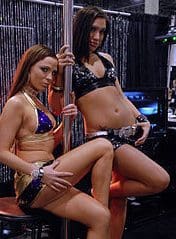 [Note: I'm her second ex-husband.]
There's that fantasy that has something about two girls and a guy. I think it's a universal male erotic obsession. I know I HAD it for a while. Not to say I don't enjoy a bit of voyeuristic girl-on-girl pic or vid from time to time.
But the time my ex and I went to a titty bar together and ran into her FIRST ex-husband, it was a bit too much. I mean, seeing the ex-husband there was kinda funny, and my ex was fun about it. We sent him a lap dance.
And then we got my ex a couple lap dances herself. A hot, very pierced and very young working girl who clearly enjoyed making my ex-y's muff moist, was all overplaying the role for us.
But the scene was uncomfortable for several reasons. My ex sort of "got into it" a bit much. I could see her flushed cheeks. I could imagine… Wait, I didn't want to imagine it. And here's why: something at that time told me that the switch would be fairly easy for my ex. The fantasy is fine until the dude is left cold. I mean, what more do I have to offer, once they are hooked up, so to speak?
So we paid her a couple of times, back and forth, in a ménage à trois ala stripper club. And the girl's perfume was heavy with her scent. She was "working" pretty hard. And not just at our table.
We never went back. And I'm pretty sure, the idea, while somewhat interesting on paper, became more of a "not really" for me. The fragility of our intimacy was close enough that any, [any] alternative sexual energy was a threat rather than a turn-on.
It's a shame. Or maybe not.
Hey, it looks like that stripper club is having a special tonight. Steak and lobster for $15.95. A pocket full of ones a few twenties, and… Nah, not tonight.
Sincerely,
The Off Parent
Resources:
---