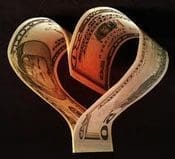 (this is a guest post)
Making a will is not always high on people's agendas. With so much going on in our daily lives, thinking about the future is not something we tend to do – but it should be, especially if you're a single parent.
For those who are not with their partner, for whatever reason, decisions over who will care for your children when you're no longer around is a real concern and it's vital that you take the time to work out what it is you want.
Why make a Will?
Making a Will is one of the only ways to guarantee that your affairs will be handled how you want them to be following your death. This not only applies to who will inherit your personal possessions and finances but also decides who will become responsible for looking after and raising your children.
As a single parent, the care of your child may not automatically default to their other parent. This means that it is wise to specify who you want to look after your children in your Will. You'll need to discuss this with the individual first to ensure it is a responsibility they are willing to take on and you need only do it if you're children are still classed as dependents (are under 18 years of age or suffer from a disability or have special needs which make them more reliant to adults).
Why do it now?
By putting off making a Will you could be putting yourself and your children at unnecessary risk. Situations can change at anytime and no one knows what the future holds in regards to their life and time of death. If you fail to appoint a guardian for your children then serious complications could be encountered following your death.
Dealing with the loss of a parent is hard enough for any child but where they like in a single parent home it can be even more traumatic. Adding the stress of uncertainty concerning their living arrangements and guardianship onto this could therefore have drastic ramifications. By drawing a Will you will be protecting them from this heartache.
Making a will is both easy and inexpensive so you needn't worry about being stung with expensive costs. If you already have a Will then you may not even need to draw a new one but may be able to make legally recognized amendments known as codicils.
Resources:
---