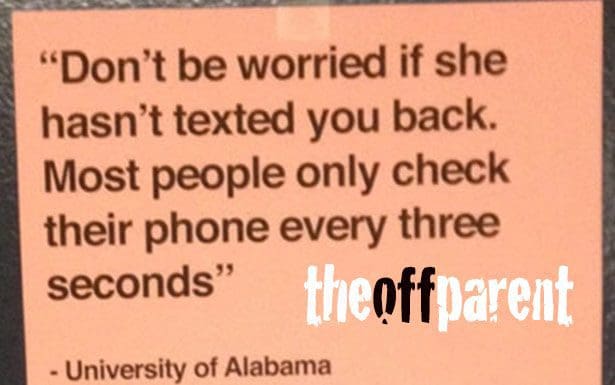 Okay, texting is not a great method for finding love, but it's what we've got. And at least, if you're got their phone number you're a step closer to contacting them for real, maybe "in-person" even. So when you send the

and you don't get an immediate response, just chill. However, when you don't get the message until a second message is sent, you've probably already been deleted from "potential" contacts.

And that's it… It's that simple to "know" you're done. Whatever the chemistry was on your end, it was not reciprocated or appreciated. When there is a YES on both ends the delays are short and sweet. So that Match date while exciting is a NO. Oh well…
And then we move on to the speed of Tinder or it's imitators. (Hinge or LinkedUp) And while I just got my account activated yesterday, I'm aware that this ultra-superficial process is a hot topic. My friend who has had some success with Tinder is a big fan. In fact, one of the interesting trends with these apps is travel. Imagine hitting a new city and opening up your Tinder app to see who in the NEW area might be up for a drink… or who knows…
I'm guessing she's had better offers from younger and cuter guys. Probably a lot of them.
If we are moving into an era where women's sexuality is going to be as liberated as men's then why wouldn't a woman hit us up on Tinder for a drink and then invite us to their room. It's happening all around us. I don't think it's my bag, and it's a bit exhausting to be flicking photos to the left for NOPE and right for YES. And as a newbie I have yet to see the JOIN signal on any of the apps. But it's 100% image driven. And while that's interesting, the context provided on dating sites is valuable.
I don't want to waste an evening on a Tinder date any more than I do on a mismatched Match date. Time is currency and loser dates are like throwing $45 and an evening into the trashcan. I don't mean to be harsh, but something about these "hookup-driven" apps are a turn off for me. Even when the woman says, "No looking for a hookup date, if that's what your after just PASS," I'm not so sure that there's much else possible.
Sure you get a few pictures. And a tiny snippet of content from their Facebook profile. But that's it. And again, there is a lot you can glean from a texting conversation, but this might be a younger person's game. But who knows, I've not gotten a sweet hit yet.
Slow dating is where my head is at, at the moment. No hurry to meet unless there's some real magic.
And finally there's the new girl on Match. Soooo cute and seemingly available.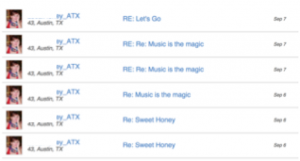 Who says "Let's go" to every one of my emails. BUT… she's new and she's about to get flooded with dudes with offers as good or better than mine. Maybe closer to her age, 43, and type. She passed her phone number on to me very quickly and suggested a walk around the lake with her dog, Frank. I didn't even know her name when we started texting, but I knew her dog's name.
She sure came back strong and funny. But nothing after the initial flood of conversation and "let's go" emails.
Needless to say she's gone quiet. We even exchanged a few texts and she did give me her name. And she kept up the "let's go" attitude, but I can't get a "hello" date set no matter how casual and easy I am making it.
In my experience striking for the NEW TO MATCH folks is a good idea. They say all of the good ones are taken, and perhaps the really good ones are snapped up quickly. But for sure, the good and cute and new ones on Match are overwhelmed rather quickly if they are female. We have been trained, as men, to be the aggressor, the initiator. And that doesn't seem to have changed on the dating sites at this point. Or perhaps I'm not in the target range of any women that are attractive to me. There are certainly a few older women who introduce themselves. And maybe that's how I appear to this lovely and new 43 year-old.
She sure came back strong and funny. But nothing after the initial flood of conversation and "let's go" emails. I'm guessing she's had better offers from younger and cuter guys. Probably a lot of them. I'll be surprised if I can get a response out of her at all now that she's gotten the lay of the land.
And this made me smile today.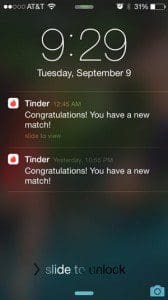 Except it was a false positive. No matches yet. Onward through the fog and fury of online dating and the new quick apps.
Sincerely,
The Off Parent
@theoffparent
back to On Dating Again
related posts:
image: giant-tinder-polypore, emilian robert vicole, creative commons image
just for fun, don't forget to practice safe sex (joke):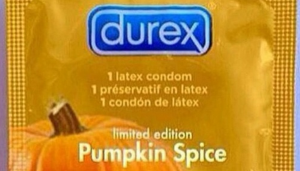 ---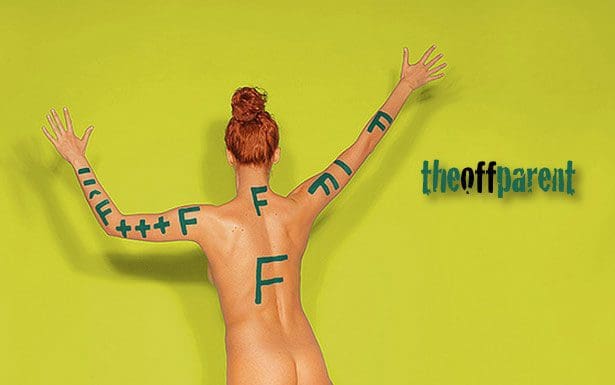 When did monogamy become a negative term? Today a Google search of that term brings up a lot of snarky posts about things like "unable to spend any time alone" and "your friends forget exactly who you are dating." What? It means something completely different to me and most of the people I hang out with, and when we talk about relationships, most of us are looking for some form of serial monogamy. Maybe it's a generational thing. Perhaps the millennials are more interested in gratification and hooking up. I'm not sure where that leads them, but I'm pretty sure it's not the right direction for me.
I've tried being a casual dater. Post-divorce I had ideas that I would go out and become a serial dater. I was ready to sow some unshackled seeds. But, it didn't happen. In fact, given the opportunity to kiss a pretty woman several months ago on a first date, I didn't. She was confused. I wasn't.
1. Keeping Everything Honest
Sex is great, sex is important, but sex means very little when there is no relationship involved.
I tried "dating" two women at the same time in college. It didn't end well. You see, no matter how you do it, you're always going to be telling the other person what you've been doing the next time you get together. And if you've just had a wiz bang time with the "other" person, how are you going to reconcile that? My buddy, KP, confesses to being a casual dater with no intention of settling down, or even slowing down. He's a model of vigor and sexual enthusiasm. But he's also a bit sad. I saw how his life changed and his attitude lightened up when a woman nailed him down and claimed him for her own. It was good for him. I can't keep secrets very well. I can keep quiet, I suppose, in order to get something that I want. But sex and dating is not the answer for me. I'm up for a relationship. Maybe even a Relationship.
2. All Available Time
I've got my kids nearly half the time. That doesn't leave a whole heck of a lot of time for dating. And that's okay with me. My priority is my kids and their well-being. I can't imagine a situation where a date would get in the way of my parenting, or prevent me from responding to a text or call from them within a few minutes. I would love a relationship, but I have a great relationship with my kids. I can wait on the lover, until the right lover comes along.
3. Cutting Away the Distractions
If a woman doesn't have long-term potential, I'm not all that interested in spending time with her. I've said it over and over again. It's not that I am making long-term designs on a woman in the first months of a relationship. But if she's not long-term material, I'm not really interested in putting a lot of energy or effort in to the relationship. I've passed up a lot of opportunities for sex, but that's not really what I'm after either.
4. Focus on My Goals
I've got some rebuilding to do. I'm still recovering from my divorce in some ways (mainly financial) and I am taking steps to deal with my unfinished business. How could I really be 100% available for what's next, when I'm not there myself. I am working on new financial goals. I am writing up a storm, though I know poetry and self-revelatory recovery books won't provide a roof over my head. It's best if I keep my focus on the aspects of my life that I am still trying to change or evolve. If I were too serious about the dating thing, or the finding the next long-term relationship, I would be taking focus and attention off the things I really need to get done.
5. My Kids Are Growing Up
At 11 and 13 I don't have a huge amount of time left before both my kids are heading out into the world without me. And as a single parent, I already don't get enough time with them. While I'm happy to explore relationships with other women, my real priority is my kids. Plain and simple: my dad duties come before my dick duties. And I put a significant amount of energy into doing Dad right. That's my priority.
Being a happy dad is the most important role in my present life. If that's ultimately attractive to another woman, awesome.
All that being said, I crave a relationship with another woman. I'd relish the moment that I find that connection again. I am happy moseying along, in the current mode. I'm okay with dating and keeping things simple, if that's what it takes to keep the other person around. I'm really okay with that. And I'm not going out to try to find my next hookup. Sex is great, sex is important, but sex means very little when there is no relationship involved.
So yes, I'm a serial monogamist, but it's not because I always have to be in a relationship. It is not because I cannot stand being alone. Nope, I'm a serial monogamist because I'm hoping to find the next relationship at some point. And that point in the future is very flexible in terms of time, and even in terms of what the person or the relationship looks and feels like. We know love when we feel it. I want love again from another woman. Until then I've got more than enough love for and from my kids.
Being a happy dad is the most important role in my present life. If that's ultimately attractive to another woman, awesome. Until then, if you're interested in checking things out, let's go have a cup of coffee and see if anything sparks.
Sincerely,
The Off Parent
@theoffparent
related posts:
image: l-system, exey panteleeve, creative commons usage
---
At the base of Maslow's Hierarchy of needs, comes the things we need for survival. Things I associate with that are food, shelter, water, sleep. I was surprised when a friend shared with me that sex was indeed part of the base needs. What?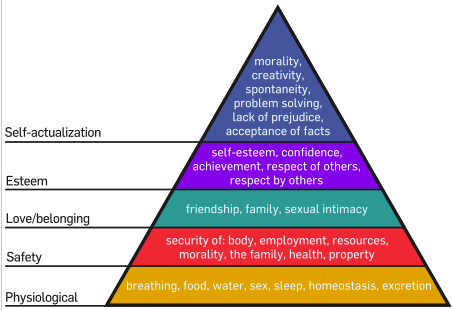 So what is it about sex is the required for our survival? Aside from procreation.
Today a post on The Atlantic about our youth's "Hookup Culture" caught my attention and my comment. Here's what I wrote on the subject of sex and hooking up.
+++
Very nice summary of two trains of thought and your own place somewhere in the middle. Thank you for your honesty and clarity in your own pride and prejudice.
I think HBO's GIRLS has the current generations MO down pretty close. Of course, I'm on the outside looking in, but the show's currency can't be argued.
So where is SEX in our growth trajectory as humans? It's pretty a base-level need according to Mazlow's Hierarchy. So we've all got to come to terms with it. Some earlier, I was a freshman in high school (home from prep school on Christmas break) when I lost my virginity to a girl a grade ahead of me, who came out and said, during the memorable event, that she was unable to achieve orgasm so "Just enjoy yourself." I did. But it was sort of sad.
And jump cut to today, I just turned 50 and I'm single again for the first time in 12 years, I've got two kids, and… guess what? Sex and dating are no easier now then they were back in college. Well, let me take that back. It's a lot easier establishing my priorities and boundaries and trying to understand what I will or won't put up with in a relationship, but… the sex? Well, as Thomas Moore says in The Soul of Sex, "sex is one of the last mysteries left to us." And as a mystery it has the power to drop us back into the sacred mind.
So sex is sacred and should not be taken for granted. Yes. AND. And sex can be casual and fun, and without dire consequences. I'm saying this from my 50-year-old perspective, but I'm pretty sure the good and bad sex happens with and without the sacred shroud we put around it.
You didn't have sex until later in you life and your married, and are happily married to the woman who got your cherry. CONGRATS. I'm recovered from a second marriage that I wanted to last a lifetime, and now I'm back on the playing field, trying to rediscover what dating in the 2010's looks like.
It's a mystery. And sex can be both sacred and casual. The head games you put around it are up to you. And what do YOU think of Lena Dunham and Company's generation now opus? Accurate? Over dramatized? For one thing, they get the mundane of sex up front and center so we can learn from their mistakes. At least we can hope to learn from their mistakes and our own.
+++
Sincerely,
The Off Parent
< back to On Dating Again index
References:
Resources:
---