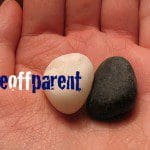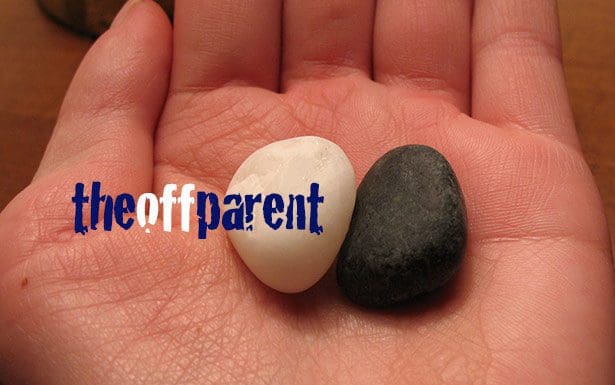 The course of divorce is long and winding. You have good weeks, good days, maybe even good periods, but something is bound to come up. At some point during my 5.5 years of being a divorced dad and co-parent to two great kids, my ex-wife decided that rather than negotiate and work with me on the money part of our contract, she would file everything with Attorney General's office with the state of Texas. I'm sure, somewhere, she thought she was doing the right and responsible thing.
That action has caused repercussions in my life, chronicled here in this blog and thought the time since being listed as a dead beat dad. Not because I was refusing to pay, but because I had lost my job and was unable to pay child support and keep a roof over my head. But at that time, she was not concerned or even considerate of me, the father of her children. She wanted her money. And some part of her afraid mind made her feel threatened enough to turn me over to the state to deal with.
The consequences of that action now carry a weight in our relationship that is hard for me to ignore. I should forgive and forget, right? I mean, "in the best interest of the children" I should always strive to be positive and accepting of my ex-wife and her requests. But there's this sword that's kind of over my head. I suppose if she got mad she could get the police to arrest me and put me in jail for back child support. It's not that I'm hiding the money. It's not that I diverted any of my income to extravagant luxuries, or that I squandered away money that should've gone to her. No, she's simply entitled to the money, due to the contract we agreed to when we got a divorce, and she wants the fucking money.
I tried, and am trying to work out the details yet again with her. But now we don't have any way of negotiating between us. If we wanted to change anything it would require lawyers and more money. And yet we have to continue parenting together. We have to put the loving parent face on for our kids. And we have always agreed to keep money disagreements out of the parenting work and out of our kid's lives.
And yet, there it is. I have a huge black mark on my credit that hinders me in getting a car, a job, a rental house. And I won't get that mark off my name and credit score until I have paid her in full, all the child support she is owed, past, present, and future. But here's the rub. That was ALWAYS my intention. I have never attempted to hide or keep secrets from her regarding my work or my commitment to pay. Yet, in spite of my pleadings with her, and in spite of my promises and agreement to be more transparent about my financial plans, she brought in the state to account for my delinquency.
Maybe it was a punishment and she was mad. But today it gives us no room to discuss other options for payment, or delays or transfers to other things that the kids need money for, like summer camp. Nope, the state knows the divorce decree and any changes will require legal fees. So I'm a little stuck. When she said something like, "And we can talk about reducing the child support accordingly," as it relates to the story below, I have to wonder… Does she get it? Does she register it was a mistake and now limits us and severely limits me for the next 6 – 7 years?
I don't know. But it puts a bad taste in my mouth when she asks for changes and hints that we could offset some of the money I owed. Because we BOTH KNOW that THAT IS NOT GOING TO HAPPEN. She's happy to let the clock roll and her money clicks along, rain or shine, regardless of what job I have or if I am able to have a place to live. Again, I understand her priority to protect and provide for the kids, but their OUR kids. And my health and welfare are also in the equation when measuring out the relationship between the four of us. She obviously doesn't see it this way.
+++
My ex asks for things, and she's good at it. She's always asked for what she wanted, regardless of the cost, regardless of the consequence. I think the divorce happened a lot along with those patterns as well. And were at it again.
So, it's easy to ask for an adjustment in the schedule. And two years ago when she was dating a new man I agreed to alter the parenting plan to her alternating weekends so they matched up with his weekends. I didn't need to do it. I actually lost my occasional double weekend in the bargain. But there was no reason I could think of to deny her request, except to be mean.
And more recently, she's been asking to switch up the parenting schedule in a big way. To go on a more "week-on-week-off" schedule. The reason, she says, is to alleviate the multiple house changes each week for the kids. And yes, there is some frustration about the constant moving, but I don't think that's the real reason she's asking for the change. It could be. But I've come to be skeptical of her good faith requests, they usually pack something underneath.
Now, I don't think she's suggesting this new schedule to be mean, or to upset the growing relationship in my life. But I also, don't fully trust WHAT she is asking for.
Here's my take. She's tired of having the majority of the school morning parenting. It's hard. I get it. She'd like a break. She'd like me to take more school mornings. Just as she'd like me to be more attentive, more responsible, and better at helping out. "Wait, that sounds like when we were married."
In the bargain, that I cut in the closing days of my marriage, I agreed to the standard possession order (SPO) and non-custodial parent role. I was asking for 50/50 parenting back then. But that would've been a very different outcome. As it stands, I am obligated to pay her 1,150 per month in child support for the remainder of my kids pre-18 years.  And for that hefty stipend, I get less time with my kids. I guess so I can go earn the extra money.
Okay, that's the way it is. And then she felt it necessary to file with the Attorney General's Office to enforce the child support, even though I was talking to her and never trying to withhold any money that I had. So that's put us in a difficult (correction) that's put me in a difficult situation. She's owed the money if I have a job or not. She's owed that money, AND I'm responsible for the kids' insurance as well.
She even hinted that we might consider a reduction in payments if we went to this new schedule. (Something she's never mentioned before. Even as she's hiding behind the AG's enforcement.)
It's hard to trust your ex-partner when they have done so many things to hurt you. When they have put the state's attorney on you that allows for zero flexibility and zero negotiation. So as far as that money is concerned, it's hers and the state will extract it from me and tack credit crushing levy against me until I'm caught up again.
So in that light, she's asking to get fewer mornings as the custodial parent. She wants the money, the 50/50 schedule, and it's really because of the kids.
I'm not so sure and I'm even considering giving back the off Fridays. If it's about the kids switching, we can reduce that. But if it's about the school day hardships, well, she's already taken most of that early school years from me, so she can deal with more of the teenage years as well. I mean, as long as I'm paying for her to handle more of the kid care, at least I should get that benefit.
Yes, it is because of the kids. Yes, I would like to make my kids happier about transferring from our two houses less. But there are ways to do this that don't involve me taking on more days in some vague promise of reducing my child support payments. And I'm standing firm that this request is about the kids and her. And my response will be most appropriately focused on the kids' request rather than hers.
It's hard to keep up the positive attitude with so much sludge under the bridge, but that's the only choice I have. But when she is requesting a major schedule change, this time I'm going to remember MY requirements, and also what's best for me.
The Off Parent
@theoffparent
back to The Hard Stuff
related posts:
image: our stones, rebecca partington, creative commons usage
---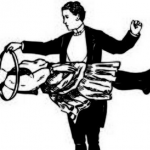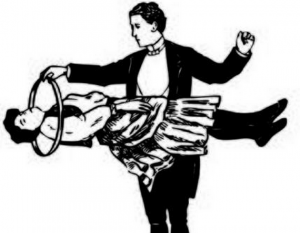 [When we last checked in, back in late August the ex had just filed her grievances with the Attorney General's office.
Here is Part 1: Tell Me Again, Why You Think This Is a Good Idea?]
My email to her was short and … Well, it was short and with as little vitriol as I could manage. I edited for clarity. Essentially, I told her I wished she had accepted my offer to talk before taking this action. (We have a mutual friend who actually works for the AG's office.) But she hadn't, and now she was going to put us both through some unnecessary process and procedure. I tried to explain, the AG's office really is a way of accounting for the payments made or not made. They had limited enforcement capacity. And I was not disagreeing with the amount owed nor the fact that I owed it.
You can't extract money from a person who is filing bankruptcy. There's no money here. That's the point.
She was clear and consistent in her message, the same message I got today as the closer on a round of emails about child support and AG's cluster.
 "I'm not contesting that you asked for us to meet and talk, and that I said no unless we could talk about child support $. It's in our parenting plan that we use email; it was a unilateral decision on your part that you'd only talk with me about certain things face to face."
Her refrain at that point, every single time I brought up talking in person, was "How Much" and "When." SRSLY? That's it? That's all you have for me? That's all the care you have for planning and strategizing about our kid's future?
I'm jumping ahead and skipping the throat punch again. Sorry.
So, here I go, heading into bankruptcy trying to figure out how to keep Wells Fargo from taking my one asset and my ex has nothing but more process and procedure to throw at me. Let me slow down and take it step-by-painful-step.
In discussing the options with my new bankruptcy attorney, who extracts his $1,000+ fee at that first meeting, it's clear we need a strategy for dealing with my ex. And let's get this straight. Not a tactic, not a way to hide the truth or tuck away some assets for protection. If she's so hopping mad at me, thinking I'm spending all her child support on strippers and blow, this should clear things up.
I can't imagine being in the reverse situation and doing anything that would damage her chances of keeping her house.
In that first meeting, we decided that I should ask my ex to accept a lean on a small piece of property my family still owns, thereby securing her "debt" to an asset. The plan was for me to agree to all of her financial grievances to-date, sign a document giving her first-blood on any sale of this family asset, and… AND for the privilege of me doing this, I could then free up some money and begin paying her child support ASAP.
I said to the attorney. "I think she'll go for that. It's a win-win for her. And we're cordial. I should be able to get that over the weekend." I left feeling like I had a plan to keep my shelter. (Back down to the base of Maslow's damn hierarchy again — Dammit.)
When I asked, via email, of course, I thought my proposition would put me back in the good-guy champ. I was agreeing to sign any accounting she had (and you can bet she had them) and begin the process of getting payments to her again. Her response floored me.
"I appreciate your kind offer. But I signed an agreement with the AG's office that I would not negotiate with you about child support."
BOOM.
10-days later, I was in the attorney's office again. Turns out, without her cooperation I don't qualify for my chapter 13 bankruptcy.
"So what, we're going to burn the place to the ground now?" I asked.
"Not that bad," the attorney said.
So get this. I withdrew my bankruptcy filing, telling the court that I would probably be filing in the future when I get my income levels to an amount that would allow me to qualify for the plan.
GET THIS: I'm trying to file for bankruptcy literally to keep the roof over my head, to get caught back up on everyone's payments, and move forward. And I didn't qualify. WTF?
I'm not sure what the next bold moves might be from the ex. I got the letter today from the AG's office that they were prepared to file a mark against my credit report showing my back payments as past due. Oh boy. I guess that'll foul up my grim options on the bankruptcy even further.
You walk away from the marriage, but you can't walk away from the financial enmeshment. Like it or not, we're still dependant on the other's earning power.
The silver lining, if there is one, is this. Wells Fargo now has to go through the process of resetting my account and restarting the foreclosure process on me again. (Boy, this is not fun.) And I have a couple of months to increase my income by about 20% or lose everything. I guess my sister's spare room is still an option if I lose my house.
Again, I can't imagine being in the reverse situation and doing anything that would damage her chances of keeping her house. I wrote that to my ex yesterday as part of the exchange that ended with her email above.  She's complaining about the cost of violin private lessons and I'm talking about trying to keep a house over my head. A place, BTW, where her kids spend 33.5% of their time.
Scratching my head, all I think is she's still hoppin mad. So mad she'd like to see me fail in the biggest way. Meanwhile, she's living in a house, that was afforded by my downpayment and my corporate jobs, and that is almost double the value of mine. Oh well.
You walk away from the marriage, but you can't walk away from the financial enmeshment. Like it or not, we're still dependant on the other's earning power. I've been doing everything I can to find the next opportunity for my work. And I would tell you that I'm not worried. But again, I might have delusions of grandeur. I've been working on replacing this income since June.
But again, unless she has me arrested, going for contempt or whatever those charges might be, I think I'm safe for a few months. I think my kids and I have a place to sleep and play and be a smaller family.
NOTE: I was really enjoying the part where this blog was becoming less about divorce and the ex and more about aspirations and seeking love. Ho-hum. And yes, I know, I'm the asshole man/dad who's behind on his child support. So in my assessment, the dead-beat dad is a man who is doing things to prevent his ex-wife and family from thriving. A dad-having-trouble is simply a dad who cannot afford a place to live and the court-ordered payments to his ex-wife. It might be a semantic distinction, but it gives me some comfort. Forgive me, but I'm trying.
After chatting with several women friends, who are also divorced, they all shared their own outrage at how I am being treated. A couple of books come to mind.
Sincerely,
The Off Parent
< back to The Hard Stuff pages
related posts:
resources:
---