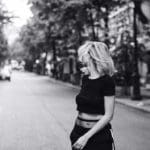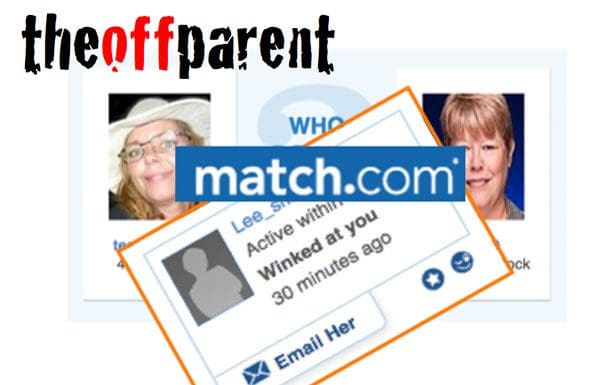 I say it all the time, I'm not much into dating. I'd rather have a relationship. The idea of a new woman *is* exciting, however the steps to uncover and develop a relationship are much longer and (I won't say laborious) tedious. Last week I was on a Match.com date and I was wondering how I ended up at the table with this woman. She was no match. And if I had looked a bit deeper into her photographs instead of wishing into them I would've avoided an hour of … uncomfortable conversation.
So I'm going to examine what Match.com has got going for it, and what parts of the process and site are unproductive, for me. Again, please note my current bias away from dating. And even with that bias, dating is the only way back to a relationship, if that's what I ultimately want. So here we go.
I don't check-in to Match.com on a regular basis. I'm in a self-seeking phase at the moment. I do still have the app on my phone and when someone signals that they are interested in me I get a little red dot on my phone and a message on the lock screen. "Someone sent you a wink." My immediate reaction is always a sarcastic, "Oh boy!"
Let's open up Match and look around for a minute.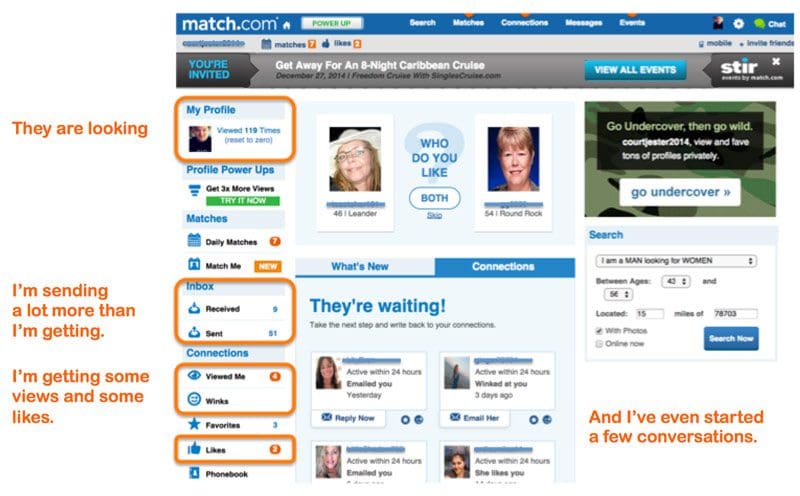 I have periods of high activity on my end. I jump on, search for attractive and left leaning women and send them a "hello." My ratio at this moment is 51 sent vs. 9 received. But that's okay. We aspire, we connect based on very shallow preferences, and we see what happens. My profile seems to be getting plenty of views. 4 new views since the last time I checked in. And I've had some emails and conversations going between myself and several women. All good "activity."
But the activity doesn't necessarily mean matches. And my actual success ratio with actual dates via Match.com is about 51 dates to 1 relationship. Now, to be fair, that relationship is the first one post-divorce that changed my entire approach and perspective on what I was looking for, but… the numbers are not in our favor. That's what you should understand early on. Dating is a numbers game. View a lot of profiles, put some interesting enticements in the water, and if you get a bite or two try and take it to the next step, the "hello" date. But there's a lot of unproductive dates and wasted time spent trying to sift through the BS and uncover the winners. And if she is too much of a winner, she won't have the time of day for you as a man. A recent date said she gets between 10 and 15 propositions a day. I get 1 or 2 a week. The ritual still falls along traditional lines: men pursue, women accept or reject our offers.
So let's get some information about the women who "viewed me."
And while one out of seven isn't bad, as I looked into this woman, before arranging the date, I realized I was forcing the "yes" a bit. She was attractive, but there were a number of things that didn't jive for me. So I called it off. But this is the general window-shopping mode of match. You have one main image, their "seeking men" age range, and a brief headline. The green highlights are a paid feature you can add, but I'm not sure it does anything to dress up a marginal profile.
And maybe that's issue number one with online dating in general. There are a lot of people just playing around. I have had an ongoing pursuit of a very attractive woman on Match who has accepted two dates and backed out both times within an hour of meeting. She let me know she's not really ready for a relationship or even dating, but that trolling around on the site gives her some pleasure. She's just playing. She doesn't really want a date. Odd.
And there are certainly the profiles that begin, "My girlfriend made me put this up," or "I'd never imagined I'd be on an online dating site, but…" that are clear indications that they are just playing around. Checking to see if Ryan Gosling shows up and professes a crush on them. Or something… I guess fielding 1o messages a night might be entertaining, if you're bored and in need of a superficial ego boost. (That's not a man's experience, or this man's experience. I don't know, maybe Ryan is here and is having a hard time keeping his inbox from exploding.)
So let's go deeper and open up one of the more appealing women who have viewed me. Now I guess, already I'm swimming against the current, because she didn't leave any indication that she was interested. No like, wink, or message. But still, she thought my initial photo and profile blurb was attractive enough to check me out. Let's see if we see any mutual connections.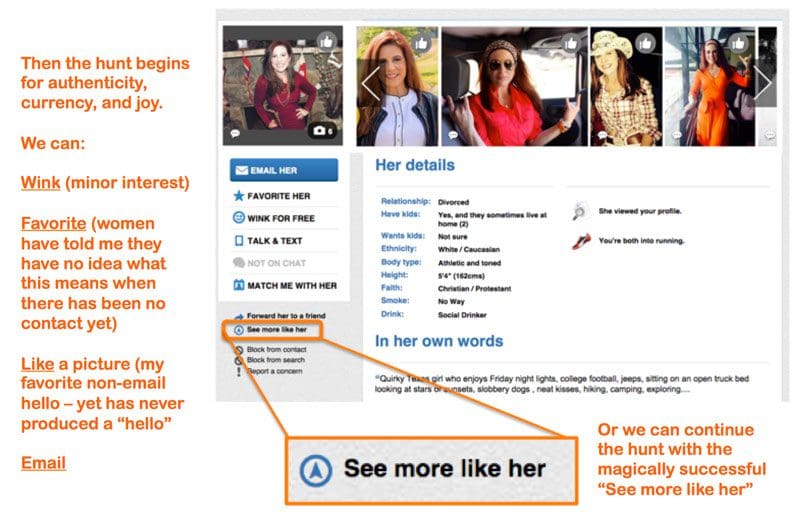 And it seems the hardest part is finding a mutual interest, but that's the same challenge with dating in general. The hope being, that somewhere in the 860 women who "match" my criteria there is a woman who is actually interested in a relationship and then interested in meeting me, in particular.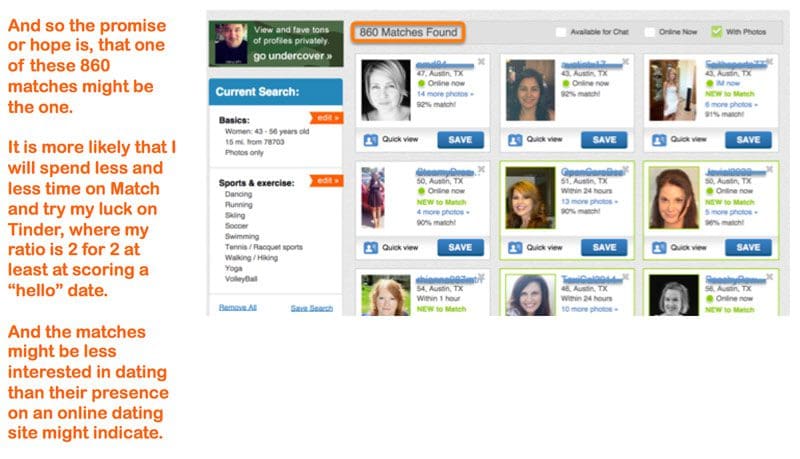 It's a hard and long hunt, but what are the alternatives? Bars? Nah.
Match has one other special feature, but I've found it to be rather useless. Their expert algorithm calculates 7 matches a day. I've stopped even opening them. They are so far off that I find them more annoying than helpful.
So to sum up Match.com in my experience.
Men are expected to reach out to the women and make the introductions
Women tend to get a high volume of "hellos" from real suitors and creeps, while men tend to get very few
A lot of people on Match.com are just messing around, socializing, playing with the idea of dating
You have to weed through a lot of mis-matches before finding people who are in my zone
The Weekly Matches feature is more of a distraction
Finding my way through the 860 matches is a challenge and often feels hopeless
A deep examination of the person's photographs often says more than their words (looking for the one real photo, that captures the essence)
Once a "hello" date is established there are still plenty of opportunities for the other person to back out (I just backed out of ms. checkmark)
Finally, if you meet and BOTH feel some chemistry, there is a chance to "begin"
If it's a numbers game, we have to keep playing
Match is currently my favorite site. It seems the "pay" aspect weeds out a few more of the "playing around" people than OKCupid or Plenty of Fish. And while I prefer the questions on OKCupid, the profiles do a bit of the work, provided the woman answered honestly and with some depth.
It's all a crap shoot. Photos lie. Profiles tell half-truths. And some of us, interested in actually establishing a relationship, spend time in the backwaters of the game sorting through "more like her" to find alternative sorting methods for the overwhelming number of non-matches it takes dig through to find a possible match.
Keep going, there are more people joining every day.
Sincerely,
The Off Parent
@theoffparent
*this post was originally written in 2014
back to On Dating Again
related posts:
---