Online Dating: Setting Your Sights for WOW and Browsing the Herd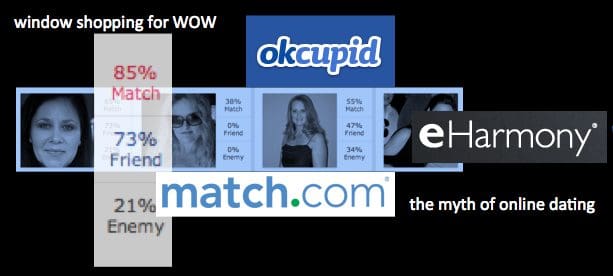 Forgive the animal metaphor, but online dating is a bit like a cattle call. A stream of faces and mythical ratings to entice and enchant you. As the fantasy goes, "I'm single again, let's take advantage of this new world, sew some seeds, have some fun."
The reality is much more time consuming, mundane, and potentially expensive.
Filling out your online dating profile even if you have no intention of "working" the system, is one of the real benefits of giving it a go. Here's why.
ABOUT YOU
Describing what you are like
Sharing things you like to do with others
Remembering what's romantic, even if it's been a long time
Outlining a bit about who you want to meet
Defining what you are looking for (a relationship, a fling, a bootie call)
ABOUT THEM
Seeking out and finding the traits you want in your next relationship
Noticing what "types" turn you on, and what things immediately turn you off
Seeing the wide variety of smiles and styles out there, theoretically dating
Do you have any deal breakers (smoking, drugs, too religious, not religious enough)
Exploring deeper aspects of a woman's personality by reading her profile and looking at her answers
Overall, the process should bring several things to light.
Are you ready to be in a relationship?
Are you ready to shine up and show up?
How much are you willing to learn about the new dance of dating?
Here's what I think I learned about myself, thus far.
I like dark hair more than lighter shades
I prefer small breasted women
If there is not something simply amazing about the person (that I can see in their profile) there probably will not be something amazing about them in person
I don't really like dating, I want to be in-relationship and not paying for wine bars
Intelligence is more important than waistline, but… There is a limit
I'm craving something more than just a relationship, I want the BUZZ
The buzz has led me astray before, I have to keep refining my two core needs, in spite of the buzz
Physical touch and closeness is very important, and it can be over done
Emotional depth and ease of expression is something I'm good at, and I require that in my partner as well
All this to say, I have built a roadmap for finding the next love of my life. (Sounds corny.) But I'm not looking to shop the herd, or play the field. I'm looking to find the next person "to come home to." (An OKCupid catch phrase.)
So in this year or so, that I've been playing on OKCupid I have had three relationships. One long one. (Current "girlfriend" is going on three months.) But I've only met ONE woman who embodied for me the IT GIRL. As I was walking away from this two-hour chat I was thinking, "If she'll date, I'll take down my profile tomorrow."
She didn't. And thus I'm about to hang my flag back up on OKCupid.
But I think I need to talk to the "girlfriend" and be honest about what's going on. It's part of the new year. Not to live with "almost" and to open up the pain of "alone" to make room for "wow."
Sincerely,
The Off Parent
PS. What does "spiritual but not religious" mean? I think I know, do you?
< back to On Dating Again index
Resources: