Too Positive, Too Optimistic? A Blind Side.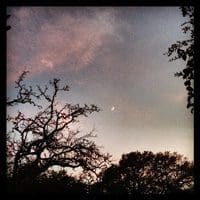 I really want to blame this last sag on my exey, but it ain't so. The morass I have just been climbing out of was mine and mine alone. Sure there were some inflection points, post-divorce, that could've been mitigated with some cooperation from the exey, but the fail was really mine.
I don't want to write about this.
My Achilles heel is being too optimistic. And certainly, at times, too forceful in my positive (possibly aggressive) approach to life and problems. I recall the "muse" saying to me, "You're just about the most positive person I know." I felt proud of that. But…
Well, occasionally my happy outlook and plans don't work out the way I hope. (This is everybody, I know.) And this time a few things fell through to make my recent transition much more swift and dramatic than they needed to be. Had I been working a more realistic and pragmatic life program I think I could've done a better job and saved myself and my family a bit of heartache.
Again, I'm not talking about the divorce, I'm talking about … money. (Frown.)
Not what I wanted to admit to or blog about, EVER. Of course I have blogged about it, a lot. But I was on the "it's going to work out" side of every story. It didn't work out.
Now I'm in regroup mode. My lovely but not ideal house is sold. And I'm in a total rebuilding process. It's good. It's going to be better. And there are things I was neglecting. Now, with eyes, open, I'm conscious of bringing down the YES-force a bit, and get back into the "what needs to be done" mode.
New beginnings are always hard and exciting at the same time. I've gotten back on the tennis court. I'm about to start Aikido again. And my focus has returned to the loving support of my family, ex-wife included, and how I can best provide for all of us. It's hard to imagine how intertwined we remain even after the divorce, but it is clear we still need each other.
If I have one Sagittarius trait in spades it is positivism and energy to carry out those plans. But it's also my weak point. If I put too much faith in my "win" attitude, the losses can set me back more deeply than if I had also been making contingency plans.
Onward.
Sincerely,
The Off Parent
Related Posts:
Resources: